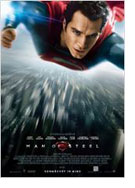 Opening 20 Jun 2013
Directed by: Zach Snyder
Writing credits: David S. Goyer, Christopher Nolan, Jerry Siegel, Joe Shuster
Principal actors: Henry Cavill, Amy Adams, Michael Shannon, Diane Lane, Russell Crowe
Smash, pow, bang! Now it is all pure science fiction. Superman first appeared in comic form in 1938. Superman films started in 1951 and continued in 1978, '80, '83, '87, and 2006. Older generations have their own impressions of The Blue Boy Scout, so-called by comic artist Scott McCloud. Now a new generation can look forward to a different experience. Gone are the quiet scenes in Smallsville, Kansas, and The Daily Planet newspaper office.
The action begins on the planet of Krypton. Here we witness the birth of Superman, originally named Kal-El. This "first natural birth on Krypton" is assisted by his very forward-looking father Jor-El (Russell Crowe). The parents wrap him up into a spaceship and send him off to Earth, so that "Krypton can live again on Earth," while at the same time removing their son from mortal danger. Namely, the evil General Zod (Michael Shannon) has staged a revolt and is killing everyone, including Jor-El. Foster parents Jonathan (Kevin Costner) and Martha (Diane Lane) Kent discover Kal-El, much like Moses in his proverbial basket, and name him Clark. These caring folks realize that he is special and shield him from a suspiciously aggressive public as long as possible; no sacrifice is too great. As an adult, Clark Kent goes on a pilgrimage and works on a fishing boat before checking in as a reporter for The Daily Planet. At the same time he rescues people, e.g., from burning oil rigs, in his alternative identity as the Man of Steel.
That's all well and good, but once the troops from Krypton arrive in space ships that look like hovering tortoises, the action takes place between two planets, with Earth mobilizing its troops to protect itself from Krypton and Superman always two steps ahead. This no longer looks like Kansas. General Zod says, "The fact that you (Earthlings) possess a sense of morality and we (Kryptonites) do not, gives us an advantage." We'll see about that.
My favourite sentence was, "What if I need to tinkle?" I've never heard this Midwestern word for "to pee" in a film before.
British actor Henry Cavill does well as Superman, although he looks more interesting in the beginning, as a bearded trapper, than later as a clean-shaven Superman. Film critic Holger Kreitling describes Amy Adams as the "most boring Lois Lane in film history." I wouldn't go that far; she obviously does her best, but why does she, a small-town reporter, get press passes for any and every discussion, combat, trip, you name it, where no other reporters have access? What's her special insider deal? Then there is the short religious scene where a depressed Superman goes into a church to gain support from a priest. This too obviously looks like a nod to the conservative, religious right-wing audiences in the U.S. Hans Zimmer, responsible for the music, definitely lives up to his reputation as an excellent film composer. With a 30-year history of musical compositions for 100 films, he could draw on eight well-known pedal-steel guitarists and more than 15 excellent drummers versed in rock drums to timpani to military marching drums.
Director Zack Snyder sends his star to join a long list of other science fiction figures; Superman no longer seems special. Perhaps the film's most enlightening disclosure is that the symbol "S" on Superman's broad chest stands for the Krypton word for "hope." Maybe by the next film he will go back to his adopted Midwestern roots and save innocent people without all the macho strutting, happy to be Clark Kent in a small office. We hope. (Becky Tan)