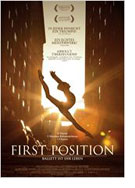 First Position - Ballett ist ihr Leben (First Position)
U.S.A. 2011
Opening 4 Jul 2013
Directed by: Bess Kargman
Writing credits:

First-time director Bess Kargman's entertaining documentary follows six young dancers, aged eleven to seventeen, as they compete at the prestigious ballet competition, the Youth America Grand Prix. It seeks to show the true depth of passion, talent and drive that it takes for children to reach such a level of ability in ballet dancing. Issues such as stage mothers, eating habits, the effect of dance on academic pursuits, and racism are all touched upon as Kargman delves into each child's individual life and their personal struggles. Every dancer comes from a unique cultural and financial situation and yet they all impress with their great determination, charisma and prowess.
First Position is exceedingly enjoyable because it allows the personality of each dancer to shine through. However, while Kargman touches on the many issues that face young dancers in such a competitive field, she fails to do more than scratch the surface and in doing so ends up glossing over what could have made the film truly poignant. It is a feel-good movie with beautiful dancing, but it lacks enough depth to be a truly successful documentary. (Rose Finlay)


Second Opinion

This documentary by first time filmmaker Bess Kargman follows the lives of seven young dancers as they prepare for and participate in the 2010 Youth America Grand Prix, the world's largest student ballet competition, where each year 5,000 participants aged 8 – 19 years compete for a total of $250,000 in elite scholarships, among them The Royal Ballet School London and John Neumeier's Hamburg Ballet School!
The seven contestants from very diverse backgrounds and ages include: 11-year-old mititary brat Aaron Bell, Columbian Joan Sebastian Zamora who at age 16 moves to NYC alone to improve his chances, Michaela Deprince who witnessed the murder of her parents in Sierra Leone, Japanese/American siblings Jules and Miko Fogarty, lovely Israeli Gaya Bommer, and all-American girl Rebecca Houseknecht.
Presenting their inspiring lives through selective, interesting details seems to gracefully flow from director Kargman, a journalist by profession who seriously studied ballet herself, stopping at age 13.5. Quoting Ms. Kargman, "I'm fascinated by their stories and would love to come back and do a sequel in ten years: Second Position." (Nancy Tilitz)