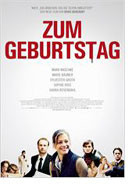 Opening 19 Sep 2013
Directed by: Denis Dercourt
Writing credits: Denis Dercourt
Principal actors: Mark Waschke, Marie Bäumer, Sylvester Groth, Sophie Rois, Saskia Rosendahl
"Now she is mine," says Paul proudly. It is the year 1980 and it is his 18th birthday. His friend Georg and his girlfriend Anna spend the day at a picturesque lake in former East Germany. After Paul plays a dirty trick on his school friend, Georg unceremoniously leaves his girlfriend Anna behind as a birthday present to Paul. Instead he picks up a "strange" black-haired girl and drives off with her. His parting words are, "I want her back whenever I return."
Thirty years later Paul (Mark Waschke) and Anna (Marie Bäumer) are still together. They have a beautiful teenage daughter Emelie (Saskia Rosendahl) and son Lukas (Markus Quentin). No one suspects that their happiness was built on Paul's lie. Then Georg (Sylvester Groth) reappears. He is now Paul's new boss. Their encounter is frosty as Georg seems to be acting mysteriously. He, too, is still together with the "strange" girl from the lake. Paul invites them to their country house and Yvonne (Sophie Rois) arrives with loud, provocative music, dressed in black like in her teenage years. At the table, she casually talks about how Georg got rid of her ex-boyfriend by telling the police of forbidden western music for which he was sent to prison. The atmosphere gets eerie and everyone feels uncomfortable.
Back at the office, the successful financier Paul starts having problems. The mail arrives with fake photos showing him and his secretary in a compromising situation. Anna is suspicious and tension builds up between the couple. Paul feels helpless and threatened. Does Georg want Anna back? Or is he after their daughter? Has the past finally caught up with him? Paul's best friend Daniel (Johannes Zeiler) is always there to help. What role is he playing in their lives?
Zum Geburtstag is a psychological thriller with crisp, short dialog and an excellent German cast, using only subtle gestures and body language to convey few emotions. Sophie Rois with her typical rough voice is particularly well placed opposite the softly spoken Marie Bäumer. Apart form their numerous theater performances they will also be familiar to TV viewers. The young Saskia Rosendahl made a name for herself as Lore (2011) and was awarded European Shootingstar at the Berlinale 2013.
Director Denis Dercourt (also script) was born in Paris, studied philosophy, is a music professor and started his film career in 1997 with a comedy, Le déménagement! (The Move). Since then all his films were screened at the Cannes Film Festival's section "Un certain Regard," where they were well received by the public and critics alike. This is his first German film. (Birgit Schrumpf)