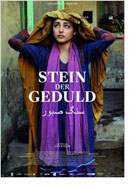 Opening 10 Oct 2013
Directed by: Atiq Rahimi
Writing credits: Jean-Claude Carrière, Atiq Rahimi
Principal actors: Golshifteh Farahani, Hamid Djavadan, Hassina Burgan
Once he was a strong man, a fighter, an Afghani war-hero. Now, the strong man lies motionless in a coma. The eerie stillness in his empty bedroom is only interrupted by sudden gunshots or soldiers rushing by. His young and beautiful wife patiently looks after him. She protects him, gives him medicine and prays to Allah. His brothers and the rest of the family have all left the war-torn area. She is thankful that her husband is still breathing. If she were a widow they would have claimed her to serve them like a slave. The mullah said her husband will wake up again after two weeks but time has gone on and she is tired of his shallow promises.
Her two small children are hungry. There is no money in the house for food or her husband's medicine. To keep him from drying out, she fabricates a primitive drip with a sugar-salt solution. As a last resort she asks her aunt for help leaving the children in her safe care. Daily she returns to the house – or what is left of it – loyally tending her lifeless husband.
Mythology tells of the black "patience stone" that can absorb all your worries until it bursts which will set you free. Encouraged by her aunt, the young woman starts talking to her husband as she has never done before. "Now I can do anything, I can tell you all, you are my patience stone. You live to free me from all my sufferings." She tells him her deepest secrets, her tricks to become pregnant, her pent-up desires and expectations. She vents her feelings towards the young, stuttering soldier who keeps visiting her. Her moods swing from tender love to outbursts of anger which then again turn to remorse and frantic praying. Outside, the war continues, soldiers raid houses, and she desperately hides her husband in the cupboard. Despite the seriousness, this makes for some funny situations.
The famous Iranian actress Golshifteh Farahani gives an engrossing and passionate performance. The lush cinematography by Thierry Arbogast highlights the poetic mood. The pace is gentle, but nevertheless keeps a subtle tension throughout with an emotional impact as well as a political. By telling her life's story, this lonely woman gives a voice to all Muslim women living in bondage in a chauvinistic environment.
The film is based on Atiq Rahimi's novel of the same name for which he received the highest French literary prize, the Prix Goncourt. He also took part in co-writing the script with Jean-Claude Carrière.
Golshifteh Farahani was awarded "Best Lead Actress" at the recent Abu Dhabi Film Festival. German audiences might remember her in All About Elly (Silver Bear for director Asghar Farhadi, Iran 2009) screened at the Berlinale. (Birgit Schrumpf)