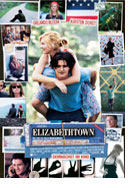 Opening 3 Nov 2005
Directed by: Cameron Crowe
Writing credits: Cameron Crowe
Principal actors: Orlando Bloom, Kirsten Dunst, Susan Sarandon, Alec Baldwin, Bruce McGill
Drew Baylor's (Orlando Bloom) world is shattered when he is fired for losing his company a billion dollars. Later that day he learns that his father has unexpectedly died. En route to Kentucky where he must collect his father's body, Drew meets an undyingly optimistic flight attendant, Claire (Kirsten Dunst), who decides to make a project out of him. In Elizabethtown, Drew is offered a glimpse into the life of the completely foreign Kentucky Baylors and insight into a previously unseen side of his father. Parenting problems, food obsessions, wannabe musicians, military pride, small town traditions, third nipples and deep seeded grudges – this family has it all, and they want to celebrate the life of Drew's father in a big way. In juxtaposition to the family's grief, the event of the century is ongoing at Drew's hotel, "Chuck & Cindy: The Wedding". In the midst of all of these human experiences and with Claire's guidance, Drew begins to learn that life is not about a destination, but instead about a journey. For the inspiring climax of the film, Drew takes a long awaited and symbolic road trip with his father (albeit postmortem), and like Jerry Maguire before him, finds himself along the way.
With the likes of Tom Cruise and John Cusack as the leading men in other Cameron Crowe films (Say Anything, Jerry Maguire, Almost Famous), Bloom had big shoes to fill, and fill them he does. Like his predecessors, he masters his character's vulnerability with honesty and grace, and in spite of being a Brit, he is somehow very American. The star-studded supporting cast, including Susan Sarandon and Alec Baldwin, is a credit to the story-telling genius of this director.
Together with his wife, rocker and composer Nancy Wilson, Crowe has chosen a soundtrack which he calls "The Great American Radio Station", featuring among others Tom Petty and Elton John, and original music written by Wilson. The movie was filmed on location, and between the music and the scenery, one cannot help but be touched by the Heartland.
In typical Cameron Crowe fashion, Elizabethtown is a tribute to the important things and people in our lives. While the story at times gets muddled in some subplots, the details, in retrospect, add to the film's charm. Admittedly there are several moments when the ridiculous-meter boarders on overload, but on the other hand, Drew's mother's (Sarandon) tap-dance serenade scene was "just precious", as they would say in Kentucky, in spite of being a bit silly. It would have been a shame for that to have ended up on the cutting room floor. (Alyssa Cirelli)