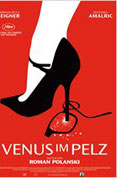 Venus im Pelz (Venus in Fur, La Vénus à la fourrure)
France/Poland 2013
Opening 21 Nov 2013
Directed by: Roman Polanski
Writing credits: David Ives, Roman Polanski, Leopold von Sacher-Masoch
Principal actors: Emmanuelle Seigner, Mathieu Amalric
Director Roman Polanski has filmed another stage play (after Carnage, 2011) and freely adopted Leopold Sacher-Masoch's novel of 1870, based on the play by David Ives. The intense rapport between the brilliant Mathieu Amalric as Thomas and a gorgeous and dynamic Emmanuelle Seigner as Vanda holds your attention throughout.
Thomas, the tired and frustrated theatre director, is about to leave his theatre without having engaged an actress to play the main character in his adapted play. He doesn't get far but is stopped by a young woman breathlessly barging in and trying to convince him that she is the right person for the role. But who is this mysterious, chewing-gum-munching woman, calling herself Vanda (like the character in his play)? To his surprise she knows his manuscript and can recite the text at the spur of the moment with an unexpected sophistication. At one moment she is elegant and sexy and the next she is vulgar and brazen. Slowly but surely this woman is taking control, ensnarling Thomas with her passion until he is totally bewildered.
The dialog in this psychological duel swings frequently between play and reality. What is real and what is imagination? From time to time Thomas' mobile phone brings him back to reality, with the bombastic music by Richard Wagner, and his wife asking when he will be coming to dinner.
It is a great pleasure to watch these two exceptional actors involved in a battle of the sexes where time and space are blurred and of no consequence. At the Hamburg Filmfest the jury chose Venus in Fur for the Art Cinema Award. (Birgit Schrumpf)