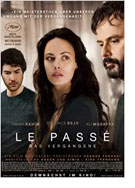 Le Passé – Das Vergangene (The Past, Le passé)
France 2013
Opening 30 Jan 2014
Directed by: Asghar Farhadi
Writing credits: Asghar Farhadi
Principal actors: Bérénice Bejo, Tahar Rahim, Ali Mosaffa, Pauline Burlet, Elyes Aguis
Marie (Bérénice Bejo) meets Ahmad (Ali Mosaffa) at Charles de Gaulle airport. They seem happy to see each other, and you wouldn't think that he is her estranged husband. He had left her four years ago, returning to Iran. On her request, he now returns to sign their divorce papers at a French court. Instead of booking him into a hotel, as was his wish, she drives him to the small, charming and chaotic house on the outskirts of Paris where they had lived together. Marie seems nervous and asks Ahmad already in the car to have a talk with Lucie, her eldest daughter from a former marriage, who seems to hate her.
On arrival her younger daughter Léa (Jeanne Jestin) and a little boy are playing in the garden. Lucie is nowhere to be seen. He is told that she only comes home to sleep. When Lucie quietly tries to slip into her room at night, Ahmad catches her. The teenage girl is very happy to see Ahmad, but he realises that there is a mysterious tension between mother and daughter. At first he thinks this is just the typical moodiness of her age. Soon he learns why Lucie is so rebellious. Whilst living in the cramped house Ahmad realises that Marie has a new lover. Samir (Tahar Rahim) and his little son Fouad (Elyes Aguis) have practically moved in already. Slowly it becomes clear that Samir's live is also full of complications, and his past has to be resolved before he can move forward. Marie is frustrated and helpless. With much patience Ahmad tries to help. Unfortunately, between the former couple the same old discussions bring up the same old hurt. Nothing has changed. The past is still alive, no matter how long it has been suppressed.
Berlinale prize-winner Asghar Fahadi (Nader und Simin – Eine Trennung, 2011) has again chosen the theme of separation. The relationship between Ahmad, Marie and Samir brings to light hidden emotions, uncertainties and insecurities. Nothing is as it seems in the beginning of the film. The Iranian director Fahadi is a master in telling his multilayered, profound story with empathy, insight and surprising twists. At any turn of events a new "truth" is revealed, swaying your sympathies for each character and keeping you in suspense.
It is a pleasure to watch the charismatic Bérenice Bejo supported by the Iranian actor Ali Mosaffa as her husband and Tahar Rahim as her new lover. All of the three child actors convince with their talents and add a natural liveliness. The complex theme of the film is thought-provoking. When do you have to let go of the past in order to have a future? (Birgit Schrumpf)