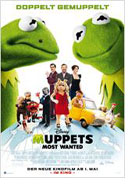 Muppets Most Wanted
U.S.A. 2014
Opening 1 May 2014
Directed by: James Bobin
Writing credits: James Bobin, Nicholas Stoller, Jim Henson
Principal actors: Ricky Gervais, Ty Burrell, Tina Fey, Steve Whitmire, Eric Jacobson
Immediately following the end of their previous romp in The Muppets (2011), Kermit the Frog and his friends embark on a world tour. Their tour manager, Dominic Badguy (Ricky Gervais), begins to undermine Kermit's authority within the Muppets so that he can be replaced with the world's most-wanted frog Constantine. Kermit then finds himself imprisoned in a Russian gulag run by Nadya (Tina Fey). With a crime wave following in the wake of every tour stop along the way, the Muppets begin to be suspected of thievery. When Walter, Fozzy and Animal realize the truth, they go on a mission to save Kermit before it's too late.
Considering how wonderful The Muppets was, it is disheartening to find that the sequel does not come close to hitting the same mark. Despite having most of the main filmmakers returning to make the sequel, there is so much missing from it that it feels as though it were made by completely different people. Even the songs created by Brett McKenzie (who won an Oscar for his work on The Muppets) don't hold a candle to the first movie.
It is also a surprisingly dated film, considering it was made in 2013. Many of the jokes are Russian stereotypes, and it feels as though they were written thirty years ago and not today. Also, much of the film takes place in a Russian gulag, which is sort of like setting a comedy in a concentration camp. Gulags are not funny places, and it is a pity that the writers thought that this would be an appropriate setting for a family film. Such usage of stereotypes and the misrepresentation of history are actually quite harmful and disrespectful.
Muppets Most Wanted is not entirely without its charms, though it fails more than it succeeds. Ty Burrell in particular stands out in his role as a detective trying to find the thieves. Some of the blink-and-you'll-miss-them cameos are also quite charming (Til Schweiger as a German cop was a nice touch), but many of the more noticeable ones are too heavy handed to be successful (Christoph Waltz doing a waltz, for example). Surprisingly, Ricky Gervais' role is also noticeably unfunny.
It seems as though somewhere between making The Muppets and Muppets Most Wanted the heart and soul that truly makes the Muppets the Muppets was lost. Although not without its laughs, this Muppet adventure certainly isn't going to be anyone's favorite. Here's hoping that if there is another one that things will get better. (Rose Finlay)