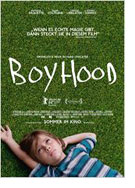 Opening 5 Jun 2014
Directed by: Richard Linklater
Writing credits: Richard Linklater
Principal actors: Patricia Arquette, Ellar Coltrane, Ethan Hawke, Lorelei Linklater, Tamara Jolaine
This showed at the 2014 Berlinale and members of the press were convinced that Boyhood would win the top prize in the competition. But, it didn't. Richard Linklater won best director, but that was it. Too bad. He had already won a Berlinale best director with his 1995 film Before Sunrise. He and Boyhood deserved top prize this year.
Olivia (Patricia Arquette) and Mason Sr. (Ethan Hawke) marry young and have two children: Mason Jr. (Ellar Coltrane) and Samantha (Lorelei Linklater). Later they divorce, and Olivia is a single mom with occasional visits from the children's father. She remarries, but this second husband, who brings two children of similar ages into the patchwork family, is a violent alcoholic. Still, Olivia struggles on, trying to finish her studies in order to find a good job. Soon, her own Mason Jr. and Samantha are teenagers. The story ends with Mason Jr. checking into his college dorm – now almost a grown man: a young man with a typical American childhood behind him, with shades of President Bush, the war in Iraq, Harry Potter, the Bible, the Beatles, an arrow-head collection, a pick-up truck, McDonalds, the internet, and a high school prom.
This could be boring, or at least even like some kind of soap opera. It's not. Each phase of these different lives over a 12-year period were so typical of my life, growing up in the U.S., that I could identify with each reference, and I grew up in the 1940-50s with five siblings and my parents were never divorced – no real parallels.
Filmed as a documentary, it is not a documentary. Linklater has accomplished something which very few people, perhaps no one before, has done. He has taken the same actors and, beginning in 2002, filmed them as they developed naturally over the years. Sometimes he filmed every nine months, sometimes every 18 months. He wanted to see how life unfolds, how time works. Ellar Coltrane, who plays the young Mason from childhood to college student, said that he was glad that he not seen the film before it finished, because he might have become self-conscious over the years of filming. The role of Samantha is played by Linklater's daughter Lorelei. She said she would have been happy if she could have stopped halfway through, but luckily, she participated to the end of the film. She actually steals the show at about age six when she annoys her brother with childlike singing and acting while he is trying to sleep. Linklater is from Austin, Texas, and filmed in this area. I absolutely recommend that everyone see Boyhood; you will relate, no matter where you come from, as did a huge group of international participants at the 2014 Berlinale. (Becky Tan)