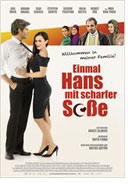 Einmal Hans mit scharfer Soße
Germany 2013
Opening 12 Jun 2014
Directed by: Buket Alakus
Writing credits: Hatice Akyün, Ruth Toma
Principal actors: Idil Üner, Adnan Maral, Siir Eloglu, Sesede Terziyan, Demet Gül
All it takes is two second-generation Turkish women living in Germany to make a wonderful comedy. In this case director Buket Alakus has adapted Hatice Akyün's book Einmal Hans mit Scharfer Soße to make a film of the same name. This is a woman's film, an immigrant's film, and a heart-felt personable film.
At age three Hatice moved with her family from a village in Turkish Anatolia to Salzgitter (actually to Duisburg, but small things are changed in the film for a smoother flow). Now in her mid-thirties, she is a successful journalist living alone in Berlin. Her youngest sister Fatma (Sesede Terziyan) is pregnant and wishes to avoid problems, especially with their father Ismail (Adnan Maral), by marrying her boyfriend soonest. According to family custom, Hatice should marry first; she is the older sister. This also presents a problem. She likes German men: blond and blue-eyed, supposedly faithful, dependable, and well-organized, while at the same time they should have a bit of Turkish ardor ("I would die for you."). The title means literally "One Serving of Hans with Hot Sauce." Several men come to the fore: Stefan, Gero, Hannes.
We can all relate to the story, even if we didn't move to Germany from Turkey. There are the clichés: changing from a mini- to a full-length skirt before arriving at the father's door step, sitting at a table bulging with delicious food which mother Emine cooked all day, ongoing rivalries between the cousins as to which family is adhering most faithfully to Turkish customs. There is the warm interaction and loyalty between family members: Father Ismail always asks Hatice about her future when stopped in the car at a red light. Naturally, there is a happy ending with a fantastic Turkish wedding. We are all wiser for having experienced the film. I recommend that you see the film AND read the book, which came out in 2005. Each complements the other.
Stephan Schade interviews director Buket Alakus at the 2013 Filmfest Hamburg as reported by Birgit Schrumpf (***):
Buket Alakus grew up in Hamburg and comes out of a working class family. She studied under Hark Bohm and now lives in Berlin.
Alakus: It was fate that I became a director, since I could not think of any other occupation to do and certainly don't have the skills to do something else. I work as a freelance director, so that sometimes I wait a long time for a project but that is also okay. I see myself as a cross-country runner in the pool of directors and when something comes along that feels right to me, I dig in my heels.
My parents, both handworkers, had no understanding for art. I left home early and went straight to Berlin where I studied film, an unknown subject which gave me the freedom to find out what I wanted in this creative environment.
It was completely by accident that I ended up in Hark Bohn's film academy, where I realized that I wanted to be a director. I was learning editing and doing all sorts of work and it was amusing because I had no idea what it meant to be a director, but I am now completely committed to the profession. I clearly had a rocky road ahead, since I was thrown out by the academy and had to make my own way.
Festivals are important to me not only because of the public who watch my films but because they take me to places in Germany where I have never been. I can see how other communities view my work differently in each place I go.
The combination of a novel and an actress, with whom I had always wanted to work, inspired me to make this film. Each film is different. It could be music or a place but it needed to be something to cause me to fall in love with the idea of making a film. I met the author at a party and found her a bit crazy but when I finally read the book, I realized I should take her seriously and that was the beginning of the project. This is made for TV but it was to be made in film quality. In spite of a low budget I had to do fantastic work with what I had, although they didn't have enough money even for masks for the actors. I had to improvise on all the set designs.
The most important quality from an actor/actress is trust and that he/she will go to their limits. I am there for the people and I want it to be intuitive. I have created a series out of this project and love each of my actors. When something doesn't work, then we have to talk about it. For example, the oldest daughter is quite a sexy actress and was not really happy about wearing a scarf on her head all the time. So we had to write in a bedroom scene so she could show her hair. I am very excited how this new project is going and hope that everyone will see it. (Becky Tan)