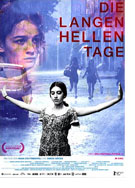 Die langen hellen Tage (In Bloom, Grzeli nateli dgeebi)
Georgia/Germany/France 2013
Opening 21 Aug 2014
Directed by: Nana Ekvtimishvili
Writing credits: Nana Ekvtimishvili
Principal actors: Lika Babluani, Mariam Bokeria, Zurab Gogaladze, Data Zakareishvili, Ana Nijaradze
The Georgian Republic (about the size of Bavaria) borders in the West on the Black Sea and in the North on Russia. Her other borders are shared with Azerbaijan, Armenia and Turkey. The young director Nana Ekvtimishvili was born in the capital Tiflis/Tbilisi and studied drama and script-writing in Berlin, Germany, where she met fellow student Simon Graß. This is their first mutual film production, and the script is based on Ekvtimishvili's own memories growing up in Georgia during the early 1990s.
Eka and Natia are just 14 years old and as rebellious towards their parents and teachers as in any other country – maybe a bit more as their surroundings are more chaotic as we might have known it. Eka's father is in prison and Natia's is constantly drunk. The two teenage girls are very best friends, trying to have fun in a post-Soviet societ,y but their life is full of challenges.
Eka regularly get harassed by two boys – even threatened with a knife – on her way from school. The general brutality on the street seems almost taken for granted. But there is also romance. Natia is drawn to Lada, a shy young man courting her. This does not please Koto, another admirer. When Lada has to go on a trip to Moscow, he leaves her a gift – a pistol. This might be rather unusual, but apparently it's a sign of love. In the absence of her boyfriend the girl will be able to protect herself. Natia proudly shows it to her friend but wants her to take the pistol so that she could frighten-off the youngsters harassing her. Will she use it?
One fine day, in full sight of the crowd, Natia is "kidnapped" by the aggressive Koto, and Eka is told that the two are getting married. In the 1990s it was still a tradition that "kidnapping" was to be understood as a "proposal". Eka is frustrated and disappointed with her friend, convinced that she married the wrong man. Angrily she returns the pistol to her. At the wedding ceremony the timid Eka overcomes her shyness and convincingly dances a solo performance with passion and self-assurance. She too has left her childhood behind, wanting to be an independent young woman.
The atmospheric pictures filmed by cameraman Oleg Mutu give you a feeling of being very close to the characters, especially when mingling in the overcrowded line for the daily bread ration or watching Eka losing herself in her rhythmic dance. The film has a constant flow of action by keeping its tension throughout with unexpected comical moments. Carefully framed scenes are a true visual pleasure. The story tells of a country in transition by focusing on the two teenage girls striving to leave old traditions behind and moving forward with courage and confidence.
The two main protagonists, played by Lika Babluani and Mariam Bokeria, have never been on screen before. What powerful performances! This unusual film was first shown at the 2013 Berlinale and well deserved the many prizes it has since received at the various film festivals. It has been chosen as Georgia's entry for the 2014 Oscar Awards. (Birgit Schrumpf)