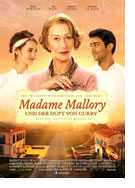 Opening 21 Aug 2014
Directed by: Lasse Hallström
Writing credits: Steven Knight, Richard C. Morais
Principal actors: Helen Mirren, Om Puri, Manish Dayal, Charlotte Le Bon, Amit Shah
The Kadams are a family of chefs who moved to Europe to escape persecution back in India. When the brakes of their vehicle fail in a quaint French village, the patriarch of the family "Papa" (Om Puri) decides to buy a restaurant and serve Indian food prepared by his talented son Hassan (Manish Dayal). The only problem is that it is right across the street from Madam Mallory's (Helen Mirren) Michelin-starred restaurant. As Mallory and Papa fight for customers, Hassan learns to expand his cooking horizons with the help of Mallory's exceptional young Sous Chef Marguerite (Charlotte Le Bon).
At first, The Hundred-Foot Journey seems like a simple romantic comedy with beautiful food. However, as the film progresses it become clear that there is deceptively more to it than that. Assimilation into European society is really the main theme, and it is not a particularly nice one. When the Kadam family moves into town, they are exotic with their food, music and restaurant decorations. Madame Mallory is the xenophobic neighbor who does everything in her power to make them feel unwelcome from the get go despite there being no real competition between their restaurants. It is set up comically, but Madame Mallory works extremely hard to try and drive the foreigners out of her town because they do not fit the aesthetic. Papa Kadam is portrayed as the comic Indian with his absurd bartering and goofy foreign behaviors. Even Hassam, who is arguably the most assimilated of the group due to his genuine love of all food, is rebuffed by Madam Mallory until her guilt allows her to open her world up to him. In her words, he needs to learn classical cooking to gain more class. Apparently this is because Indian food is without the requisite class needed in her opinion. It's all so blatantly racist and anti-foreign that it leaves a bad a taste.
It is only when Hassam truly assimilates that the family gains acceptance in the community, because their friendly foreignness was apparently unacceptable. It is when he masters French cooking that he truly becomes the European ideal of an immigrant. He has formed himself to the mold enough that he is accepted, but his cooking has a different spice to it which the Europeans love for its exoticism. His foreignness is accepted only by how much it fits into the French ideal.
While the food looks amazing throughout and the film is really just silly, it is clearly yet another example of the exoticism of Indian culture in film instead of respecting it. While there are certainly some steps in the right direction being made (such as the inter-racial pairings in the film), it is still a long way from being what it should be. But apparently being a master Chef of Indian cooking is still not considered on par with that a master French Chef, and that is truly frustrating to see. (Rose Finlay)


Second Opinion

The Hundred-Foot Journey, rendered clumsily as Madame Mallory und der Duft von Curry in German, is as light and sugary as a French pastry. Sumptuous to look at, and featuring first-rate stars Helen Mirren and Om Puri, this heartwarmingly multi-cultural film unfortunately fails to whip up any surprises other than the culinary sort.
Following a spate of mob violence in their home town of Mumbai, in which their family restaurant is set aflame and their mother killed, the Kadam family decides to relocate to Europe. The paterfamilias (Om Puri) is a no- nonsense pragmatist who does what it takes to support his clan, which includes eldest son Hassan (handsome Manish Dayal) and four more children. When the family's rickety old van breaks down in a scenic French village, Papa takes it as a sign that they are meant to settle there. Overriding the doubts of his family, Papa buys a ruined property and starts up a colorful Indian restaurant he dubs Maison Mumbai. But snooping around corners and over hedges is Madame Mallory (Helen Mirren), a hopeless snob who owns the trés chic Michelin-starred restaurant right across the road.
Hassan is a gifted chef whose beloved mama imparted him with the ancient secrets of Indian cookery. Meanwhile across the way, a lovely sous chef named Marguerite (Charlotte Le Bon) helps out the newcomers, only to realize they pose a threat to her and Madame Mallory's existence. Unsurprisingly for a movie produced by Steven Spielberg and Oprah Winfrey, the clash of cultures melts away like Chocolat (which Lasse Hallström also directed) as the haughty French and the hearty Indians find ways to work together. If you enjoy romantic scenery sprinkled with lovely buildings and are in the mood for a foodie movie, this may be the diversion for you. Too bad there's not more to sink your teeth into. (Brenda Benthien)