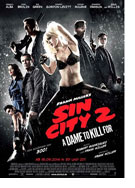 Sin City 2: A Dame to Kill For (Sin City: A Dame to Kill For)
U.S.A. 2014
Opening 18 Sep 2014
Directed by: Frank Miller
Writing credits: Frank Miller
Principal actors: Mickey Rourke, Jessica Alba, Josh Brolin, Joseph Gordon-Leavitt, Rosario Dawson
The Sin City books and movies follow a group of individuals whose lives are intertwined by their mutual experiences in corrupt and ruthless Boulder (Basin) City, more commonly known by its moniker Sin City. The events in A Dame to Kill For take place both before and after the first film, making it both a prequel and a sequel with several characters killed in Sin City (2005) making a reappearance. As the film follows a series of interrelated vignettes which utilize the same characters but not necessarily a similar time-span, this works reasonably well. Mickey Rourke has returned as the homicidal Marv, as well as Jessica Alba in a surprisingly decent turn as Nancy Callahan, whose life is spiraling out of control since the tragic events of the first film. In the main storyline, Josh Brolin plays the chivalrous, but potentially monstrous Dwight McCarthy, whose weakness around the dangerous and evocative Ava Lord (Eva Green) could lead to his destruction. All of the characters are equally affected by the corruption and greed of Sin City, which leads to nothing particularly good for anyone.
In the nine years between the release of Sin City (2005) and A Dame to Kill For (2014), something has been indelibly lost. Part of what made the first film so interesting was the mix between animation and live-action which was utilized to keep the atmosphere of the original comic artwork intact. This stylized choice was largely successful and when paired with the shockingly brutal interwoven plotlines, created a captivating film. Sin City: A Dame to Kill For tries to copy the success of its predecessor, but it no longer feels original or interesting. This is indubitably due to the fact that in the time between the two films, the style has been copied and reused a number of times, such as in 300 (2006). Without the originality of style, all that is left is the cold veneer of the storylines, which are shallow, overly violent and objectifying of women. If the amount of time spent on making each shot of Eva Green's breasts look perfect in black and white was spent on scriptwriting, perhaps the film would be more successful. But more likely than not, the success of the original was merely due to its novel style and atmosphere and with that gone, there is nothing of substance left to keep it going.
For fans of the comics, this is probably going to meet expectations, but will not be anything special. For fans of beautifully shot naked women there is also something of interest here. For people who prefer not to watch a heartless 102-minute-long film where a man gets his eyeball forcibly removed on camera, well then, maybe this one should be skipped. (Rose Finlay)


Second Opinion

To know what a graphic novel is, is to be in one. Put simply, it is a novel in comic-strip format (for adults). Audaciously utilizing 3D to place viewers smack-dab within, co-directors Frank Miller and Robert Rodriguez are back with a sizzling Sin City 2 follow-up to their successful Sin City (2005). Swathed in sumptuous B/W with well-placed accent color, and intriguing camera angles and shot setups make this film visually stunning. Its women are unapologetically sexy and strong; the men reek of villainy, flaws, or plain stupidity; the action is relentless.
A collection of four stories, Just Another Saturday Night sets the tone: "For the life of me I can't remember," says Marv (Mickey Rourke – who is in all four segments, and endured lengthy facial prosthetics application because he liked the part so much) in voiceover. Marv is brash, brazen, gladiatorial yet intensely loyal to his friends, respects women, and has a strong sense of righteousness. Next up – to surprise fans Miller wrote this and the last yarn specifically for this film – in The Long Bad Night the overconfident gambler Johnny (Joseph Gordon-Levitt) crashes reprehensible Senator Roark's (Powers Boothe) card game held in the infamous Kadie's Club Pecos back room. The central story, A Dame to Kill For is a prequel to a tale in Sin City and features Josh Brolin as Dwight – Miller's description is "a very metaphoric character" – a private detective desperate not to let (his) 'monster' out and Dwight's dream woman, the femme fatale Ava (Eva Green). Although in the first film Jessica Alba (Nancy) designed her dances, for Nancy's Last Dance – a sequel to That Yellow Bastard – she worked with a choreographer to better demonstrate Nancy's dark, conflicted inner demons and evolution. "Death is just like life in Sin City," Nancy's redeemer shrewdly says.
The multi-talented Robert Rodriguez (camera, editing and music together with Carl Thiel) filmed at Troublemaker, his studio in Austin, Texas. Production Designers Caylah Eddleblute and Steve Joyner's challenge was that only basic props (tables and chairs) and pieces (doorways and stairs) were used since the film was shot entirely in 3D against green screen; it comprises of just under twenty-three hundred VFX shots. Longtime collaborators Costume Designer Nina Proctor once again silhouette's Miller's characters in textures and colors conducive to B/W, and Greg Nicotero's prosthetics illustrate Sin City's rough-hewn men's disfigurements.
Compared to the first film, stylizing the vilest scenes – shootings, beatings, machete/sword-wielding limb removals, and even eye gouging – dulls any repugnance one might normally feel. But, the lengthy interim between films make watching Sin City before seeing Sin City 2 worthwhile, since the appended prequel and sequel are somewhat confusing. Nonetheless, we know we are in a noiresque graphic comic whose reality is the creation of one person, Frank Miller. "This rotten town, it soils everybody," Nancy bemoans. Still, take a leap (of faith) and jump in! (Marinell Haegelin)