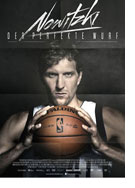 Nowitzki, der Perfekte Wurf
Germany 2014
Opening 18 Sep 2014
Directed by: Sebastian Dehnhardt
Writing credits:

Dirk Nowitzki, from near Würzburg, Germany, is a professional basketball player for the U.S. team Dallas Mavericks. He was the first European to be named Most Valuable Player and the first German to win the National Basketball Association (NBA) title with his team in 2011.
Dirk's first sport was tennis, but as he grew taller (eventually 2.13 meters or a "seven-footer"), it was clear that basketball would win out. His mother and sister both played basketball; his father's sport was handball. Although he was born into an athletic family, success was not clear until he was discovered by Holger Geshwindner in 1994 when Dirk was 16. Geschwindner had also played basketball, e.g., in the 1972 summer Olympics. He is an all-round person, who has studied math and physics, worked at the Max-Planck Institute and is interested in philosophy. He trained with Nowitzki and, when Dirk turned 20 in 1998, took him to the U.S. for a special game called the Nike Hoop Summit – between young international players and American players – an opportunity for scouts to discover new talent. Nowitzki signed on with the Dallas Mavericks in 2000 and, contrary to some players who switch teams, Nowitzki has remained loyal to the Mavericks his entire professional career. Adjustment to life in the U.S. far from his close family was not always easy.
The film is especially satisfactory because Nowitzki has a reputation for shyness off the court and we rarely hear from him, except for one unfortunate clash with a crazy woman named Crystal Taylor, a girl friend who turned out to have a criminal record and landed in jail. This film erases all silly impressions that we might have made from that episode. We meet his parents, sister Silke, and his new wife Jessica. Holger Geschwindner is all present and practices constantly with his star. He compares basketball to jazz which involves improvisation, solo interludes, teamwork and understanding the craft.
Director Sebastian Dehnhardt has also made a successful documentary about the two boxing Klitschko brothers. He said that boxing was based on three to four fights a year with concentrated training before each fight. In basketball, on the other hand, the training never stops with three games a week and a short break in the summer, when training still continues. The hard work and dedication is impressive. This film at this time is important because Nowitzki, at the age of 35, is at the height of his career. He has not forgotten Germany and also plays on the German national basketball team. His Dirk Nowitzki Foundation supports underprivileged young people. This is a well-made, interesting film, about a much-valued personality – well worth your time and your ticket money. (Becky Tan)