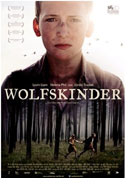 Opening 28 Aug 2014
Directed by: Rick Ostermann
Writing credits: Rick Ostermann
Principal actors: Levin Liam, Helena Phil, Vivien Ciskowski, Patrick Lorenczat, Willow Voges-Fernandes
There have been thousands of movies made about the Second World War and yet as his debut film, director Rick Ostermann plunges deep into unexplored territory. Between 1944 and 1945 several million Germans civilians from East-Prussia were displaced and fleeing for their lives. It is estimated that approximately 25,000 of those were children. Many were trying to make it to Lithuania where there were farms and, most importantly, food. They were hunted like animals by the Soviet army and any farmer caught attempting to help or take in such a child would also be killed. Many of them hid alone or in groups in the woods struggling to survive.
This subject is not an easy one to approach and it took Ostermann many years to prepare for this film. He interviewed many of the surviving Wolfskinder and visited the areas of East-Prussia and the farmland in Lithuania. He wanted to capture that environment and special atmosphere that can only be found there. He chose spring where the forest is alive with flowers, berries and plants, where one gets the sense of hope that these children will be alright. As the film continues, we see within a few minutes that two brothers Hans (Levin Liam) and Fritzchen (Patrick Lorenczat) steal a horse, kill it, and take the meat back to their dying mother to eat. The parting message from their mother is don't forget who you are and try to make it to the farm we always go to in the summer. Ostermann wanted the film to be not so gruesome that it would be horrible to watch. So he concentrated on nature. He also wanted very little dialog and music. The brothers from the beginning are different from each other and are both armed with survival skills: One is bond to his past and his identity and wants to move forward to a set goal, while the other is flexible, has no problem with assuming a new identity. He just wants to find a place where he can have a full stomach.
As they make their way through the landscape they meet many other orphaned children who have been mishandled along the way, or witness atrocities. They form a strange patchwork family that is constantly changing and constantly confronted with what lies ahead of them. Will it be a new beginning or, worse, death by starvation? Ostermann took the group into the forest for twenty-eight days and let them travel through the forest for hours, and they had to go through waterways and through fields of tall grass and play in the mud. It was strenuous but fun.
This drama makes us aware of other people who are in the same situation currently, whether they are from the Ukraine, Iraq, Syrian or any other land that is currently fighting a war, where people are on the run, fleeing for their lives and who have no idea where they will land or if they will survive. Ostermann's film has had several nominations at many different festivals. We may even see it at the Oscars this coming year. (Shelly Schoeneshoefer)