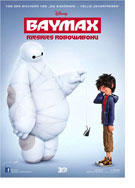 Baymax - Riesiges Robowabohu (Big Hero 6)
U.S.A. 2014
Opening 22 Jan 2015
Directed by: Don Hall
Writing credits: Jordan Roberts, Daniel Gerson, Robert L. Baird, Duncan Rouleau, Steven T. Seagle
Principal actors: Ryan Potter, Scott Adsit, Jamie Chung, Daniel Henney, T.J. Miller
Hiro Hamada (Ryan Potter), an orphaned 14-year-old boy-genius, lives with his older brother and aunt above a small café in San Fransoyoko. Both boys are self-described 'nerds' who interests are the challenge of designing robots. Hero's older brother Tadashi (Daniel Henney) is a student at San Fransokyo Institute of Technology where he has created Baymax (Scott Adsit), a health care provider robot. As Tadashi sees Hiro struggling to find himself, big bro encourages baby brother to seek application to San Fransokyo Institute of Technology by building a robot project for the school admission showcase.
This CG-animated film, based on an obscure Marvel comic book, showcases Hiro as he addresses many modern day issues of the 21st Century. Coming of age, finding oneself, school, family, loyalty, death and loss…. the whole buffet of life issues with the exciting hook of cutting edge technology (nano-bots) capture the movie goers interest. The writers cleverly guide us through good-verses-evil and deliver us to a logical jumping off point - humanity triumphs.
This animated film is whimsically designed, colorful and creatively stylized rendition of San Franscico meets Toyoko (Golden Gate Bridge included). Baymax is a 'home run' for the Disney design and creative teams, who have outdone themselves in delivering a thoroughly delightful film for children as well as adults. (Abby Myers)


Second Opinion

Walt Disney film producer Roy Conly presented us with the latest Disney feature animation called Baymax. He said that this film celebrates technology and emotion while bring together a very dynamic and talented team. He feels that Disney is currently at a very strong position in their personal history and was very proud to present several clips this film which will be premiering at the end of October 2014 in the U.S. and will be here in Germany in January 2015.
Baymax is a nurse robot that becomes the best friend of teenage tech-expert Hiro Hamada after he loses his brother in a fire at a Technical Institute where Hiro has just applied as a student. Don Hall was the brain behind this film where he wanted to combine Marvel comics with feature animation. It is loosely based on a lesser known comic series called Big Hero 6, which had 12 issues. The story takes place in San Fransokyo where the Disney Team used a U.S. Survey of San Francisco, incorporated some eight hundred buildings, and then Japanized the environment to have the flavor of Tokyo. The team worked hard on researching new technology and searched out to see if a Baymax could actually exist. They came upon an inflatable material at a university in Pennsylvania which is used in nurse robots as a cover for the metal machine parts.
This film is targeted to teenagers who may be interested in computers and technology but don't know where to go with it. They are trying to change the image of "The Nerd" by giving it a new hip look and incorporating a complicated and interesting storyline. From what I could see from the clips, the environment has a very futuristic look to it. The characters are funny, lovable. The only problem I could see is that it seems like the good guys and the bad guys are just as stereotypical as usua,l but that should be expected from a Disney film. Roy Conly says he feels good about this film like he did with Frozen and Rapunzel, so I guess we will see how it looks on that cold snowy day in January. (Shelly Schoeneshoefer)