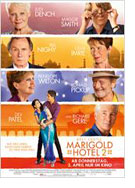 Best Exotic Marigold Hotel 2 (The Second Best Exotic Marigold Hotel)
U.K./U.S.A. 2015
Opening 2 Apr 2015
Directed by: John Madden
Writing credits: Ol Parker
Principal actors: Judi Dench, Maggie Smith, Bill Nighy, David Strathairn, Dev Patel
Here they are: all the familiar faces of The Best Exotic Marigold Hotel, which worldwide grossed 140 million dollars after its release in 2012. For this sequel director John Madden could again win a star-studded cast, including Judi Dench and Maggie Smith, the two fabulous British actresses already in their seventies. To our amusement, they are dealing each other biting remarks about their short-comings regarding old-age, but all in good humor.
Muriel (Smith) is co-managing the hotel with Sonny (Dev Patel), who is not only stressed about his marriage to beautiful Sunaina (Tina Desai) but also about the new guest Guy (Richard Gere), suspecting him an undercover inspector. At the same time Lavinia (Tamsin Greig), the second new guest, arrives when only one room is still available. How to handle this crisis?
Evelyn (Dench) and Douglas (Bill Nighy) are fully integrated in Jaipur and even started a new job. Madge (Celia Imrie) drives around by taxi between her two wealthy Indian suitors but is unable to choose only one. Carol and Norman (Diana Hardcastle and Ronald Pickup) are still discussing their relationship, after all those years together.
Above all, Muriel keeps a watchful eye whilst unobtrusively steering Sonny into the right direction. His dream of expanding to "Second Best Exotic Marigold Hotel" seems to slip out of his hands. But, in the end all goes well. The wedding ceremony is a colorful Bollywood-style affair with music and dancing where even the oldies join in the hip-swinging fun. The energy and problems of the young and the reflectiveness of the older generation make it an entertaining mix. (Birgit Schrumpf)