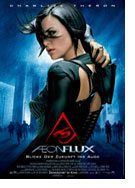 Opening 16 Feb 2006
Directed by: Karyn Kusama
Writing credits: Phil Hay, Matt Manfredi
Principal actors: Charlize Theron, Marton Csokas, Jonny Lee Miller, Sophie Okonedo, Frances McDormand
In a world where the plots of even great films are often recycled ones, it is refreshing to know that the imaginations of some movie-makers are still firing on all cylinders. Such is the case in the newest sci-fi flick Aeon Flux, which proves to be a 90 minute adventure in creativity and originality. Based on an MTV animated series created by Peter Chung, every element from set to story and from costumes to characters seems to be new, appropriate for a film set 400 years in the future.
Academy Award winning actress Charlize Theron showcases her flexibility – both physical and theatrical – in the title role as Aeon Flux. An extraordinary talent, her character is no typical heroine either. Under the direction of Karyn Kusama (Girlfight), Theron portrays a badass freedom fighter with an incredible sensuality and woman's intuition. In spite of the downright awful dialogue, one can see real depth in the character.
In fact, the story itself has more depth than expected. Even after the distinction between the "good guys" and the "bad guys" becomes clear, a moral question remains among the good guys, and it is a very relevant question even in the present time.
In short, Flux hardly deserves the bad reviews it earned for its U.S. opening. At worst it is a nevertheless enjoyable experience to watch Theron, an ex-ballerina who trained for this role with a Cirque du Soleil acrobat, performing dazzling martial arts sequences wearing costumes even sexier than Catwoman's. At best it is a suspenseful thriller with just enough food for thought that a viewer's brain won't go hungry. (Alyssa Cirelli)