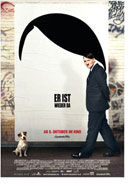 Opening 8 Oct 2015
Directed by: David Wnendt
Writing credits: David Wnendt, Mizzi Meyer
Principal actors: Oliver Masucci, Fabian Busch, Christoph Maria Herbst, Katja Riemann, Franziska Wulf
Seventy years after Adolf Hitler shoots himself in his Berlin bunker, he rises from the dead in this exact same place to find a world beyond his wildest imagination. Outwardly, things have changed, but he has not. After a few dissatisfactory confrontations in an effort to establish his importance, he hides out in a small bookstall, reading back newspapers in order to get a hold on the situation. Soon, he is discovered by journalist and filmmaker, Sawatzi (Fabian Busch), who hopes to rescue his own career by bringing out a genius Hitler stand-up comedian. Together they test the state of the nation by travelling through the countryside and inviting the man-on-the-street to talk to the talented imposter about "the survival of the German people." Things go forward quickly when Hitler rapidly assumes the spotlight on a TV show Krass Alter, moderated by Michael Witzigmann (Michael Kessler). Hitler only has to be himself: a deranged, charming, polite, flexible megalomaniac with artistic talent, who loves small animals; he is immediately successful. 
Oliver Masucci plays Hitler. (Director Wnendt said that he needed a relatively unknown actor to make the role believable, so as not to be identified with any other famous person.) There is a parallel plot within the television station about struggling careers, which makes employees willing to encourage a new "actor."
The story is based on, but does not relate word for word, the very successful book of the same name by Timur Vermes (published 2012 in Germany and selling two million copies, as well as translated into 41 languages). Some of the scenes are real, e.g. when Masucci, goes out into the public in his Hitler costume (accompanied by body guards in case of problems), and talks to real people. Their attitudes about democracy and foreigners are surprisingly rightwing. What a rare opportunity to take a selfie with the dictator!
The end is rather scary, simply because we see, once again, human nature in action. Why should we be surprised? There have been at least 25 films about Hitler starting with Charlie Chaplin's The Great Dictator from 1940. Bruno Ganz, who played Hitler in Der Untergang in 2004, said he "never wants to play Hitler ever again." It will be interesting to see if Oliver Masucci would be willing to continue with a sequel. Why not take Hitler to the US to mingle with the presidential candidates on their campaigns. Naturally, a good knowledge of German helps to appreciate this film. There is even a subtle spoof on Barak Obama (Becky Tan)