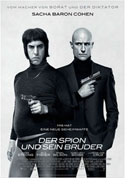 Der Spion und sein Bruder (The Brothers Grimsby)
U.K./Australia 2016
Opening 10 Mar 2016
Directed by: Louis Leterrier
Writing credits: Sacha Baron Cohen, Phil Johnston, Peter Baynham
Principal actors: Sacha Baron Cohen, Mark Strong, Rebel Wilson, Freddie Crowder, Jon-Jon Lockwood
"Family is the greatest gift of life," says Nobby and smiles at his plump girlfriend and their nine (or is it 11?) children in their small house in Grimsby, England. Life would be perfect if he could only locate his younger brother Sebastian from whom he was separated 28 years ago. Contrary to Nobby who grew up in an orphanage, Sebastian enjoyed a favored life with well-to-do foster parents. He is now an important secret agent for M16 and must stop a dangerous, world-threatening plan. By chance he lands in Grimsby, practically directly in the arms of his long-lost brother Nobby, who, from this point on, never leaves his side. Secret agents never had an associate of this caliber and the efforts take a new turn.
Comedian Sacha Baron Cohen is well-known for his crazy characters Ali G (2002), Borat (2006), Bruno (2009) and The Dictator (2012). His Nobby has a bit of a paunch and prominent genitals which often play a role. He lives on the dole and has no qualms about cheating the social system. On the other hand he is loyal to the point of self-sacrifice; details appear in flashbacks about his childhood.
This could be booked as an action film, as it goes forward quickly with new surprises, a fast 87 minutes. Cohen says, "The film has to be authentic and believable, so we create this real world around the characters for the comedy to exist in." Mark Strong is perfect as the straight man and French director Louis Leterrier brings much experience after having made two The Transporter films, The Incredible Hulk, and two Clash of the Titans films, to name a few. Australian Rebel Wilson from two Pitch Perfect films is also perfect as the plump girlfriend.
Naturally you either like Sacha Baron Cohen creations or you hate them, and several colleagues left in the middle of the press showing; the reporter for Die Welt newspaper was proud of the fact that he left after an hour of nudity and sex in every possible (and impossible) version. I enjoyed the film very much; I am a Baron Cohen fan without reservation, so you can judge my four-star recommendation from this viewpoint. As a female, I don't mind penises falling out everywhere as much as a male might. Rectum jokes are harder to swallow. There is at least one scene never before performed on screen. Baron Cohen said, "We spoke to a number of zoos and experts on elephants and we found out that the item that most resembles elephant sperm is actually McDonald's milkshake." Curious? See the film which was made in England and South Africa. (Becky Tan)