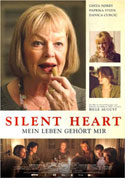 Silent Heart – Mein Leben gehört Mir (Stille hjerte)
Denmark 2014
Opening 24 Mar 2016
Directed by: Bille August
Writing credits: Christian Torpe
Principal actors: Ghita Nørby, Morten Grunwald, Paprika Steen, Danica Curcic, Jens Albinus
Esther and her physician husband Poul are retired in a nice house in the Danish countryside. Sadly, Esther is suffering from amyothrophic lateral sclerosis, also known as ALS or Lou Gehrig's disease. There is no cure and she will die. What does one do in this situation? Esther invites her two grown daughters for a family get-together and the opportunity to say goodbye over one weekend. Daughter Heidi (Steen) arrives with her husband Michael and their son Jonathan. Sanne arrives with her boyfriend Dennis. Heidi is already not amused: Sanna is late and how could she bring a boyfriend to such a private weekend with family? Still, another outsider is present: Esther's good friend Lisbeth (who, it turns out, is willing to comfort Poul in his upcoming widowerhood). The scuffle among the family members continues all weekend, with family secrets revealed. There are moments of peace when everyone smokes a joint around the Christmas tree; some revise their original opinions as they spend more time together. The bottom line is: will Esther really be able to die in peace?
Danish director Bille August has a successful career behind him. He won the Golden Camera at the Cannes film festival, a Golden Globe and an Oscar for best foreign-language film for Pelle the Conqueror in 1988/89. Smilla's Sense of Snow was highly successful with international audiences; Night Train to Lisbon was in competition at the 2013 Berlinale. He has taken a difficult topic – euthanasia – and presented differing aspects about voluntary death in dignity versus legality.
According to Wikipedia, January 2016, euthanasia is officially legal in five countries, while assisted suicide (as in the film) is officially legal in five countries and six U.S. states. Denmark, like many other countries, is coping with the problem without specific rules so far. Euthanasia is also a popular topic in serious publications, such as a seven-page article by a physician who faced his own death, in the January 2016 issue of Harper's Magazine.
This Danish film impresses with a small, eight-member cast. It could easily be produced live in theaters. It's especially satisfying to see actress Paprika Steen. There is a reasonable use of just the right amount of music. Each viewer will accept or reject the topic as well as the film, according to personal beliefs. Putting family members through a whole weekend of discussing death in this way seems cruel, even perverse. I would suggest quietly taking the pills and having the surviving spouse inform the relatives after the fact, but then, there would have been no film. (Becky Tan)