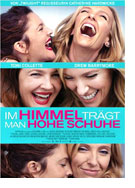 Im Himmel trägt man hohe Schuhe (Miss You Already)
U.K. 2015
Opening 31 Mar 2016
Directed by: Catherine Hardwicke
Writing credits: Morwenna Banks
Principal actors: Drew Barrymore, Toni Collette, Dominic Cooper, Paddy Considine, Tyson Ritter
Jess (Barrymore) and Milly (Collette) have been best friends since grade school, a friendship which continues through their adulthood. Jess is married to Jago (Considine). They live on a houseboat and are concerned about their inability to have children so far. Milly is married to Kit (Cooper) with whom she has two children and enjoys a successful career as a PR executive. She is the one who wears hohe Schuhe or high heels from the German title. This idyllic situation comes to a halt when Milly is diagnosed with breast cancer. Her need for her friend is considerable and Jess rises to the situation ("try saying no to someone with cancer"). With no regard for a possible impact on other family members, she accompanies Milly through chemotherapy and finally breast amputation. They try on wigs after Milly's chemotherapy and revisit their childhood vacation spot.
I am quite surprised that the Germans did not change the original title Miss You Already into something like Beste Freundinnen (best friends). Perhaps that title has been overworked lately with Ziemlich beste Freunde, Beste Freunde, or Freunde furs Leben in and out of the German cinemas. Instead they rewrote a German version of "One wears high heels in heaven."
The film is sweet and sour with heavy problems interspersed by light humor and misunderstandings, arguments and responsibility, as well as loving gestures, all characteristics which reflect a comment in the film: "one is born, one is dying; one comes, one goes." You can already guess what Jess inherits from Milly.
A highlight at the end is a reference to a real "Before I Die Wall" which was inspired by Cindy Chang in New Orleans. Here people can publically write last wishes for public viewing. In the meantime there are 1000 such walls in 70 countries. In Hamburg there was actually such a wall in the Schanzenviertel, but it was short lived. Otherwise, this is a fine film to rent and watch in your own home between caring for your kids or checking on a needy person in your own surroundings. (Becky Tan)