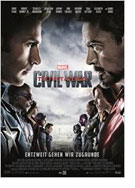 The First Avenger: Civil War (Captain America: Civil War)
U.S.A. 2016
Opening 28 Apr 2016
Directed by: Anthony Russo, Joe Russo
Writing credits: Christopher Markus, Stephen McFeely, Mark Millar, Joe Simon, Jack Kirby
Principal actors: Chris Evans, Robert Downey Jr., Scarlett Johansson, Sebastian Stan, Anthony Mackie
Average people and super humans inhabit the Marvel world. Saving mere mortals get the Avengers into trouble. Tony Stark (Downey Jr.), a.k.a. Iron Man—popped up eight years earlier to present day—is a wealthy technology wizard extraordinaire. Following an especially unsavory melee in Lagos with newsworthy collateral damage, the Avenger main-core team is called together by Secretary of State Ross (William Hurt). His option offers no alternative. A recent encounter makes Tony's choice easy. Lieutenant Rhodes / War Machine (Don Cheadle), Natasha / Black Widow (Johansson), and Vision (Paul Bettany) agree. Wanda / Scarlet Witch (Olsen) is given no choice. Steve Rogers / Captain America (Evans) and Sam Wilson's / Falcon (Anthony Mackie) choice is to walk away.
The Sokovia Accords' ratification has tragic consequences; a new revenge-seeker emerges, plus an Avenger civil war. The Black Panther's (Chadwick Boseman) sight, though, is firmly fixed on one culprit. Both sides reach out for reinforcements; Stark recruits the youngest (Tom Holland) team member. The war's hidden root uncovers an intriguing nemesis (Daniel Brühl), triggering a return to the beginning – 1991.
Directors Anthony and Joe Russo play the fast-paced, action-packed comic based story forward in the quality we are growing accustomed to. Christopher Markus & Stephen McFeely's screenplay (based on Mark Millar's comic book, with characters from Joe Simon and Jack Kirby) is perceptive, with doses of humor at just the right places. These likable characters, represented by an all-star cast and good supporting actors wear their personas' well. Owen Paterson Production Design, Ronald R. Reiss Set Decoration, Greg Berry supervising Art Director, and Judianna Makovsky Costume Design maintain the illusion, as do CGI (computer-generated imagery) artists. Shot in Atlanta, Georgia, USA (Pinewood Studios), Germany (Berlin, Leipzig airport) and Puerto Rico, Cinematographer Trent Opaloch meets challenging location conditions, whereas Jeffrey Ford and Matthew Schmidt could have edited tighter, e.g. the big battle scene. Henry Jackman's Music sets and keeps pace. Both title sequences augment the mood, adding additional information – do not leave too early. Nothing is lost in 2D. This make-believe world's nice twist at the end imparts a moral point, while offering a fun diversion. (Marinell Haegelin)


Second Opinion

Following several disastrous missions led by the Avengers, political pressure leads to a call for political oversight of the team of superheroes. Suffering from guilt from the deaths caused by his hubris in Avengers: Age of Ultron (2015), Tony Stark (Robert Downey Jr.) takes the side of the government. In opposition is Steve Rogers (Chris Evans) who believes that the Avengers work best as they currently exist, without restrictions. When a deadly bombing appears to be the work of Rogers' friend Bucky (Sebastian Stan), tensions within the Avengers threatens to tear the team apart.
Every time a Marvel film is released, the hype is unimaginable. Those who read the comics it was based on are wondering if the film will remain true to its source material, those who are more casual fans look forward to a fantastic action film. The hype pretty much guarantees that the films will be successful, but sometimes despite all of this, the underlying film is rather uninspired. Captain America: Civil War is a perfect example of this. It's not that it's a bad film, it isn't, there is enough going on and the actors are charismatic enough to make the two and half hour film fly by. However, it was a rather bland and joyless experience in comparison to previous films in the franchise.
Part of what makes the Marvel Extended Universe so successful is that it manages to mix the joyful, childish aspects of comics in with the drama in a fun, compelling way. It has been clear since Avengers: Age of Ulton that the group was beginning to have tensions and that the films were starting to take a dark turn, and in a way that was one of the biggest problems with that film, it stopped being quite so much fun. From the get-go, it was clear that Captain America: Civil War would be darker than its predecessors, but the only way to make this a seamless transition is if the conflicts arise naturally from the development of the characters. Unfortunately, the motivations behind both Rogers and Stark feel forced and out-of-character. Also, it just isn't enjoyable watching characters that we've learned to love essentially take part in a two-hour long breakup fight. It's just sad. Add to this a gratuitous and frankly cringe-worthy romance, clunky references to minor plot points of films released several years ago, and a rather insipid villain, and the film just becomes a unsatisfying.
Captain America: Civil War is certainly not the worst film in the franchise, and perhaps some will revel in the new-found direction of the franchise. However, for those looking for the same light-hearted fare of previous installments, this one may be a disappointment. (Rose Finlay)