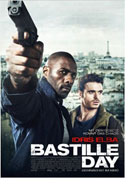 Opening 23 Jun 2016
Directed by: James Watkins
Writing credits: Andrew Baldwin, James Watkins
Principal actors: Idris Elba, Richard Madden, Charlotte Le Bon, Kelly Reilly, Anatol Yusef
Bastille Day is a lackluster addition to the ever popular genre of action films that wish-they-were Die Hard (1988). Following close on the heels of the equally dismal London has Fallen (2016), Bastille Day has little to offer aside from the cringe-worthy aspect of feeling like it is coming too-soon after the tragic terrorist attacks in Paris in 2015. Perhaps this is a final death knell to the terrorist-action genre which no longer feels so light-hearted in a world where such actions are a regular threat.
Idris Elba plays Sean Briar, an unruly CIA agent who struggles with protocol. When a bomb goes off in the center of Paris killing several people, and it seems like Michael Mason (Richard Madden), an American thief, was the one to plant it, the CIA gets involved and sets Briar on the case. However, it soon becomes clear that the terrorist plot is more complicated than it seems and Briar will have to work with Mason to stop it.
The general problem with Bastille Day is that it doesn't seem to know what type of film it wants to be. At times it is quite dark with uncompromising brutality, but even within a scene it will shift its tonality to try to be comedic in an almost buddy-cop kind of way. By refusing to commit to a stylistic tone, it fails to evoke any significant emotions in the viewer. Additionally, one would never know that Idris Elba is a SAG award winner with his cold and soulless performance here. Perhaps it is possible to give him a pass because the character development and dialogue were not the most inspired, but it doesn't excuse his honestly poor American accent. Although it must be said that he is not alone in his poor accent, as apparently someone thought it would be a great idea to make a film about American espionage in France and then fail to cast even one American actor to play any of the parts. That's right, all of the main and supporting actors playing Americans are British.
It makes one wonder why this wasn't a film about a bunch of MI6 agents running around like fools in Paris, particularly when one realizes that even the director, co-screenwriter, and almost all of the production companies involved were British or European. Maybe this explains why the whole thing felts so vastly out-of-touch and why the characters had no backstories, because they are all just cardboard cutout American stock characters played and directed by people with little cultural understanding of the characters they are portraying. Or maybe it is simpler than that and Bastille Day is just a poorly executed low-budget action film. Regardless, it's certainly a film that should be skipped. (Rose Finlay)