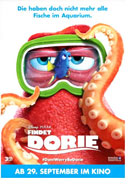 Findet Dorie (Finding Dory)
U.S.A. 2016
Opening 29 Sep 2016
Directed by: Andrew Stanton, Angus MacLane
Writing credits: Andrew Stanton
Principal actors: Ellen DeGeneres, Albert Brooks, Ed O'Neill
It's been a year since the events of Finding Nemo (2003) when clown fish Marlin crossed an ocean to find his kidnapped son with the help of the forgetful blue tang, Dory. In that time, things have settled back into their normal pattern, but when one day Dory suddenly remembers that she was separated from her parents as a child, she embarks on a journey to find them. Along the way, Dory (Ellen DeGeneres), Marlin (Albert Brooks), and Nemo (Hayden Rolence) all learn the true meaning of family.
Finding Nemo has long been one of the most popular of Pixar Studios' films, and so it was not a great shock when a sequel was announced. Unfortunately, Finding Dory does not quite live up to the originality of its predecessor. While the voice acting is still top-notch and the animation continues to impress, the story is beyond weak and much of it feels like a rehash of the first film. Much of the film involves one character being separated from the other two and everyone is on a journey to be reunited, which is essentially the whole plot of the first film. This is often a problem with sequels, and while Finding Dory is certainly not the worst offender, it is beginning to be a worrying trend for a studio known for its strong storytelling that the last three sequels (Monsters University [2013] and Cars 2 [2011]) all suffered in plotting. Perhaps this is a sign that Pixar should return to exclusively making original stories, which has always been its strength, and refrain from sequels which seem to be made exclusively for money grabbing. Unfortunately, three of the four upcoming films planned by the studio will also be sequels, and so it seems to be a trend that doesn't seem likely to stop anytime soon.

That being said, Finding Dory is still filled with enough enjoyable light-hearted humor to be thoroughly entertaining despite the weakness of the plot and overall story. A highlight is the performance of Ed O'Neill as the grumpy octopus Hank who really shines in a rather underwhelming film. Despite its weaknesses, Finding Dory is sure to find an enthusiastic audience among families, but when compared to the strong, emotional stories of most previous Pixar films, it is unlikely to top anyone's favorites list. (Rose Finlay)


Second Opinion

In their latest animation feature film Finding Dory, the Walt Disney Studios along with the Pixar Animation Enterprise go under-the-sea to catch-up on the life of their beloved Nemo (Finding Nemo), his father Marlin and their happy, comedic friend, Dory. Family, friendship and acceptance of learning disabilities are key themes in the new Disney-Pixar adventure tale. The dynamic-duo animation Studios go above the call of duty to create one of the most beautiful underwater seascapes known among animation professionals. The vibrant coloring of the aquatic sea life and its graceful movements allow the audience to be spell-bound by their beautiful artful design.
Filmmaker Andrew Stanton, chosen to direct Finding Dory says, "I realized that I was worried about Dory, the adorable blue tang fish (in the film Finding Nemo)." He adds, "The idea of her short-term memory loss and how it affected her was unresolved." He couldn't shake his curiosity of what might happen to her and if she would survive. This concern allowed the filmmakers an opportunity to answer questions about Dory's past.
Producer Lindsey Collins adds, "Dory seems so happy, but she was never really grounded until she met Marlin." Collins continues, "Their happenstance meeting and subsequent friendship marked the first time since she was a kid that she had a family."
Ellen Degeneres (the voice of Dory) says, "Dory was such a big part of Finding Nemo that it makes sense that people might wonder about her journey (and background story)." And, the reason for her life motto, "Just Keep Swimming!"
Synopsis: It's been thirteen years since Dory (voice-over actor Ellen Degeneres) helped her friend Marlin (voice-over actor Albert Brooks) find his son, Nemo (voice-over actor Hayden Rolence) once lost in the depths of the deep blue sea.
Forever grateful to Dory, Marlin and Nemo invited her to live among their community located in the reef area of the ocean. Remembering that Dory suffers from short-term memory loss, Marlin and Nemo longed to help her find her way back home. But, until she could remember something about her past they could do nothing other than be her adopted family. The father and son were convinced that if she felt a part of their family, something would trigger in Dory's brain to remember her beginnings: her family. Marlin and Nemo were hopeful. Time was not a concern. A recollection was going to happen.
Through a series of events, Dory begins to remember that she once had a family but oddly separated from her parents at a very young age. When Dory was still with her parents they were patiently helping her manage her known short-term memory loss. They didn't want to change her. They wanted to teach her to how to live a happy life with her disability. Of course, she does not remember this fact.
Dory wonders if her family could still be looking for her after the passing of so much time. Just the thought that her family might have missed her all these years was an exciting idea. Dory's cheery and lovely self appears even brighter at the thought of finding her family. A happy thought that put her on task to find her beloved mother, Jenny (voice-over actor Diane Keaton) and father, Charlie (voice-over actor Eugene Levy).
Marlin and Nemo accompany Dory on a life-changing adventure that takes them clear across the ocean to California's prestigious Marine Life Institute (MLI), a rehabilitation center and aquarium. The trio discovers that the Institute is a big complex, cared for and well protected. They need help to get inside of the Institute. Our friendly and lovable Dory asks a few MLI residents to help her and those who agree are: Hank (voice-over of r Ed O'Neill), a feisty octopus who loves to joke around; Bailey (voice-over of Ty Burrell), a beluga whale who feels like his echolocation skills are suffering; and Destiny (voice-over Kaitlin Olson), a nearsighted whale shark who is also one of Dory's child-hood playmates.
Marlin, Nemo, Hank, Bailey, and Destiny join Dory on one escapade after another looking for Dory's childhood dwelling and her family that once lived inside the Institute. Their goal to help Dory reconnect with her past and find the family for whom she searches was altered until she remembered to follow the shells.

RoundTable Interview - Michael Stocker
Supervising animator with Pixar Animation Studios
The round table interview with Michael Stocker was to be thirty minutes in length with a few journalists from the Seattle area who each write a film blog. Each journalist had their questions prepared, ready and waiting for the Q and A. Upon entering the interview room as a group, the liaison from Allied Integrated Marketing, Jayme Stocker, informed us of the procedure for the interview and that she would keep us on task for the allotted time frame.
Mr. Stocker was introduced to us as we stood in the room; he greeted each of us with a smile, a handshake and a welcome to the interview. I was immediately drawn-in by his kindness and enthusiasm to meet with us. He was personal. Relatable.
Prior to the interview here below is what I learned about Michael Stocker's career history:
Michael Stocker (Supervising Animator) joined the Pixar Animation Studios fourteen years ago. His credits include some of our most beloved animation feature films: The Incredibles, Cars, Ratatouille, UP. He served as directing animator on Toy Story 3 and Monsters University. Prior to working for his current employer, Stocker worked ten years for Walt Disney's Florida Animation Studio starting in their internship program. His credits with Disney range from The Lion King, Hercules, Tarzan, Fantasia/2000, The Emperor's New Groove, Treasure Planet and Home on the Range.
Stocker's journey toward animation art began while studying commercial art at Spokane Falls Community College. His next steps led him to Seattle to work as a commercial illustrator with companies like Boeing Aeronautics. Opportunities opened the door for him to take an internship with The Walt Disney Animations Studios in Florida and he was off and running. Stocker worked with Disney for ten years to eventually become an animation supervisor for Pixar Animation Studios--now going on his fourteenth season.
The journalists sat down around a linen-clothed table and after introductions we began our questioning. Each journalist had a turn to ask one initial question that opened a delightful conversation focused on Mr. Stocker's work as a supervising animator on the latest full-feature film from Disney-Pixar called Finding Dory.
Q: Why after thirteen years make a sequel to Finding Nemo
Michael Stocker (MS): Not exactly sure there is only one answer. Several people wanted to explore Dory's backstory. There was a curiosity about Dory's story. Andrew (the director and screenwriter) wanted to explore Dory's journey because it was unresolved in Finding Nemo. That fact was unsettling to him. The producers felt that if there was going to be a sequel it had to be the right timing. As it turned out, any earlier would have been too premature...they just weren't ready to launch the quality that they have now with Finding Dory. It's all about the timing.
Q: Did you use the same character/animation work as was done in Finding Nemo? Were you able to transfer a lot of the work from Marlin, Nemo, Dory, Destiny, etc?
MS: Not at all. We had to rebuild every character from scratch. We had to start all over. Though one would think we could take even the littlest of things and transfer them but it just didn't fit. We didn't have many veteran animators from Finding Nemo working on the project of Finding Dory. They were mostly new animators to the project.
Q: How easy or difficult was it working with different animators?
MS: The current animators we hired were able to use Finding Nemo as a road map but then they were on their own. We had the animators do an exercise taking one of the previous characters and work to duplicate it exactly. It was nearly impossible. It was impossible! Thus, the reason for rebuilding all the characters from scratch.
MS: We do a lot of research on the subjects of our creations. The animation team working on Finding Dory spent many hours at aquariums studying the sea life and engaging with the variety of sea life when hands-on interaction was possible. For example: We all spent many hours holding and observing the Octopus because we wanted feel what our creation of Hank (the cantankerous Octopus friend of Dory) was to be like and create him to be as life-like as possible. We studied how the arms moved, how they wrap around things, how their suction cups on the tentacles feel. We wanted to know how Octopus breathe and where is their mouth is located. We wanted to build our characters as life-like as we possibly can.
Q: Do you have a preference working with 3D vs 2D?
MS: No...both have their strengths and weakness...2D is purely hand-drawn and 3D one works with the hand-drawn art and the computer for dimension ...which one can actually animate a whole shot on their screen now days. Basically, we start with 2D then expand to the 3D format.
Q: When you are building a character for an animation film, do you first start with creating by using the voice over actor (their persona in mind), Or the creative art design?
MS: We start with the art first. We create/design the character first. Then the story comes to life. We adapt to the script. Then we video tape the voice-over actors while they are reading the script or sides to observe their way of talking and idiosyncrasies. This helps us to incorporate them into the personality of the character. So often, one comments on how the animated character "looks" just like the voice-over actor. (laughing) Yes, it's because we have created it so to endear the audience.
Q:Your artistic background is pretty extensive incorporating your work done as a commercial illustrator and designer...When did you become interested in animation?
MS: While I was studying commercial art at Spokane Falls Community College (Spokane, Washington), I took a film class and loved what I learned about film. This was the beginning of my love affair with film. I was interested in getting more involved with film but I wasn't sure where to go and what my focus would be. It was during this time that I saw the film Roger Rabbit...and I was hooked...I knew I wanted to be involved in animation. I then sought out my options and landed at the California Institute of the Arts (CalArts) and completed a two-year program. This took me to the Disney animation studio in Florida.
Q: In your BIO, it mentions that you were an "in-betweener" trainee. Can you explain what that means?
MS: Yes. It's basically a person who cleans-up the animation slides or drawings once the final additions to a character have been approved and the character is ready to be put on screen. The clean-up crew is called an "in-betweener" because once the character has been finalized we need to go back and make all the lines perfectly clear, precise and distinct from hundreds of drawings. I did this job and was an "in-betweener" trainee on The Lion King. This was the first big animation film I worked on while in training.
Q: What has been your favorite project?
MS: Oh! I don't know! It is too hard to choose just one project that I've worked on for so many reasons.
(However, he begins to list off one film after another saying The Incredibles because of this, and Cars because of that...and then smiles, and admits that it's too hard to list one because he loves them all.)
Q: How much are you involved in the storytelling?
MS: As animators we are generally not involved in the beginning. However, since we are constantly collaborating with the screenwriters by creating and doing what we do best we get more involved by brainstorming and bringing up ideas of actions, feelings, thoughts that a character would have... It's a give and take type of relationship...As for me personally, I am more involved now than I used to be simply due to the interaction I need to have with the director and/or screenwriter as to the storyline. Communication between us is key as my role as a supervising animator. I am like a liaison.
Q: What are you most proud of with this film?
MS: Without a doubt it is the development of HANK, the Octopus. It took such a long time getting him right. I am so proud of our animation team who worked diligently to create him. It was one of the hardest jobs on this film. It took us about two to two and a half years to create him. And, then capturing real moments with our animations. Real moments where our characters are so real that one doesn't see the animation. One gets so lost in the animated character that it appears real.
Q: The question presented often in the movie, 'What would Dory do?', What does that mean to you?
MS: It means that Dory is valued by her peers. They have seen her in action. They trust that her way of doing things is positive. She influences others to do good. Dory lives in the moment. She's happy, She's funny. She's sincere. She's pure. She's straight forward. She's appropriately naive. She is positive. She's innocent, unaffected and natural. In spite of her memory loss she has so many good qualities that her friends admire. They don't concentrate on her weaknesses, though they know best that she has them. It's very difficult in real life to be all that Dory is...but this is why I love Dory. I want to be like her. So, I try to be like her. I hope we can all learn the importance of 'being Dory.' (Karen Pecota)