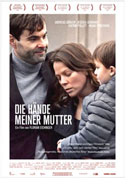 Die Hände meiner Mutter
Germany 2016
Opening 1 Dec 2016
Directed by: Florian Eichinger
Writing credits: Florian Eichinger
Principal actors: Katharina Behrens, Andreas Döhler, Sebastian Fräsdorf, Heiko Pinkowski, Katrin Pollitt
Markus (Döhler) and his wife Monika (Jessica Schwarz) are celebrating a huge family birthday on a boat with all the relatives. His mother Renate (Pollitt) takes the four-year-old grandson Adam to the bathroom. Upon their return Markus notices a small wound on Adam's head. This injury sparks memories of his own childhood experiences: sexual abuse initiated by his mother when he was a boy. Suddenly it's all clear and out in the open. He begins to discuss the situation with Monika (who wants to take Renate to court), with his sister Sabine (who knows similar stories going back to their grandfather), which his father Gerhard (who offers money to make it go away), and to Renate (who is quite willing to apologize). Soon the topic is so intense that Markus fails in his daily responsibilities; he goes to a psychologist for aid. In the end there is another family meeting under quite a different atmosphere.
Director Florian Eichinger was able to draw from real events, after researching this topic for many months. Sexual abuse initiated by a woman is relatively rare: only 10-20% of all cases. Here, family members all play a role – the ones mentioned above, as well as an uncle Johannes, a niece Hannah, another uncle Ewald, aunt Grete, etc.
Naturally, this is a hard topic to film and might also be impossible to watch, except that Eichinger has chosen to replay the flashbacks of Markus' experiences as a child casting the adult Markus in the scenes. In other words, Renate is not abusing a child, but a grown man, and we can chose to imagine that this would be a child – or not – depending on our ability to experience difficult scenes.
I originally saw the film simply because it was partly filmed in a neighborhood near me and I thought I'd recognize familiar scenes (which didn't happen). In the end I was completely drawn into the film, which premiered at the Munich Film Festival, where it won two German Cinema New Talent Awards: Eichinger for best director and Döhler for best actor, before then showing at the Filmfest Hamburg. (Becky Tan)