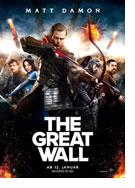 Opening 12 Jan 2017
Directed by: Yimou Zhang
Writing credits: Max Brooks, Edward Zwick, Marshall Herskovitz, Carlo Bernard, Doug Miro
Principal actors: Matt Damon, Tian Jing, Pedro Pascal, Willem Dafoe, Andy Lau
Two Westerners, claiming to be traders, are taken prisoner in the Gobi desert in 15th century China near the Great Wall and brought before high-ranking officers defending the Great Wall, among them the beautiful Commander Lin Mei (Tian Jing). The two mercenaries William Gavin (Matt Damon) and Pero Tovar (Pedro Pascal) have just survived the attack of a mysterious monster by hacking-off its hand and taking with them a magnetic rock from the cave.
The royal officers are preparing for a monster invasion which happens every sixty years. Seeing the hacked-off hand they identify it as a Tao Tie species but are shocked that the mysterious monsters are already nearer than expected. Suddenly, a wave of screaming monsters attacks the Great Wall. It is most impressive to see the well-organized masses of soldiers in their various colors marching, shooting arrows and launching burning rocks. Commander Lin's troop consists exclusively of female soldiers jumping off the Wall whilst spearing monsters at close range before pulled back to safety with elastic cords.
William and Tovar, now prisoners, are watching in horror as more soldiers get killed. When they are able to break free, they successfully use their fighting skills helping to repel the enemy. Naturally, this brings them great respect. They meet another European, Sir Ballard (Willem Dafoe), living there for 25 years, but not of his own free will. He too was captured whilst searching for a way to obtain the black powder (gun powder) from the Chinese. He hopes the two strangers are his ticket to escape with the desired commodity as he knows where it is stored.
The next monster attack is even more gruesome. Their number has increased; they have learned and are more intelligent by now. When general Shao is killed, he leaves Lin in charge. At this time an envoy from the capital arrives with an ancient scroll stating that the monsters can be pacified with magnets. One creature can be isolated, captured and taken to the capital for further studies. This is a good time for Tovar and Ballard to escape. When William wants to stop them, they knock him unconscious. Chinese riders re-capture Tovar alone in the desert but Ballard got killed by the explosion of his own stolen munition.
When hordes of monsters are already encroaching on the capital city, Lin, now the leading commander, develops a daring plan. Air balloons are sent up with the prevailing winds direction capital. The captured monster is prepared as bait for killing the Queen Monster who needs to be fed continuously by her subjects. It goes without saying that this is a hazardous scheme and makes for plenty of tension as one balloon after the other goes off in flames. In the end, Lin's plan works, helped by William's throwing the magnetic stone just in time. Lin is promoted to Regional General. William is set free – and foregoing his reward he can take his friend Tovar with him back to Europe.
For director Yimou (Hero, House of Flying Daggers), it is his first movie filmed in English and shot entirely on location in China with a budget of US-Dollar 135 million. The Great Wall had to be re-constructed as it was too hazardous to do any filming at the original wall. The director said the most impressive part for him was the presence of so many translators to handle communication of the assembled international crew. More than 100 on-set translators worked with the various cast and crew members. Sitting through the pages and pages of credits at the end of the film, I can well imagine it.
This monumental historical fiction adventure is based on a two-thousand-year-old legend of the monster Tao Tie, a demonic beast in Chinese mythology. The movie is packed with action, impressive and beautiful computer-aided images accompanied by a lively music score (composer Ramin Djawadi) changing from vocal interpretations to thundering drum arrangements. With its strong cast and the cleverly used 3D-effects, it makes for some enjoyable entertainment. (Birgit Schrumpf)