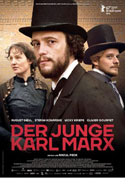 Opening 2 Mar 2017
Directed by: Raoul Peck
Writing credits: Pascal Bonitzer, Raoul Peck, Pierre Hodgson
Principal actors: August Diehl, Stefan Konarske, Vicky Krieps, Olivier Gourmet, Hannah Steele
After hearing the loud applause for the film I Am Not Your Negro based on James Baldwin's last unfinished work which has been nominated for Oscars, one would think that this film The Young Karl Marx would be made from the same fabric, but unfortunately the film leads us into a bourgeois look at Karl Marx's (Diehl) struggles with society.
This historical drama set in 1844 reveals to us that Marx was willing to sacrifice his and his family's well-being for his manuscripts. His wife, who came from the upper class, probably suffered the most. She had two children to raise and had to give up all the niceties that she was used to. When Marx's family was temporarily forced into exiled in Paris, he was habitually in debt, trying to make ends meet. His works were not taken seriously, nor did he receive payment for them. Writing just happened to be his only skill.
When Marx finally met Fredrick Engels (Konarske), the tables turn. He found that he was not only admired for his works but had made a close friend who shared the same political ideology. Engels came from a rich background and basically made it possible for Marx to complete the publication of The Communist Manifesto as well as establish a new political party free of the class system.
That all sounds very noble but the film actually shows the two men mostly drinking, smoking and running away from authorities and moving from one country to the next. We see that Marx's wife had cute little titles which she would throw in here or there and Engels wife was born to be an Irish fighter. We see very little of the social classes who were supposedly all over Europe suffering from this oppressive system. The film should have had a climax with the coming of a revolution but, in the end, the birth of Communist Party came about with a cheering crowd.
I think that director Raoul Peck needs to get his hands dirty in this film or use the techniques from his award-winning film in order to make this film more interesting. Either way, this film certainly won't be taking any prizes home. (Shelly Schoeneshoefer)