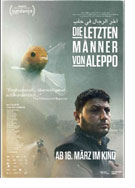 Die letzten Männer von Aleppo (Last Men in Aleppo)
Syria/Denmark/Germany 2017
Opening 16 Mar 2017
Directed by: Steen Johannessen, Firas Fayyad
Writing credits: Firas Fayyad

Aleppo is a city in northern Syria, with parallels to Hamburg, which is in northern Germany. Both cities have approximately 1.7 residents; both are the second largest in their respective countries (Damascus is the largest in Syria, Berlin in Germany). Here the similarities end. Aleppo has been the scene of civil war since 2012, with the Syrian government combatting independent groups, supported by bombing from local helicopters and Russian planes. The population is faced with injury, death, homelessness, and, in many cases, a refugee life in Turkey. Probably 35,000 buildings have been reduced to rubble. It's here that the volunteer members of the White Helmets enter the scene. These young men stand ready, day and night, to rush to any new scene of destruction where, at risk of their own lives, they dig out the remains of the victims, in the hope of rescuing someone still alive.
This film features three of the men: Khalid, Subhi, and Mahmoud. We learn something about their families; they also discuss the pros and cons of staying in Aleppo or fleeing to Turkey. They dig into the ruins of buildings, using heavy equipment, or simply shovels, or, if all else fails, with their bare hands. They pull out an occasional survivor, but, unfortunately, also dead babies and severed limbs.
I attended a Q & A with Syrian director Feras Fayyad and co-producer, German Stefan Kloos. I was especially interested in the fact that no women appear anywhere, except occasionally Khalid's small daughter. Kloos told me that women have been practically invisible in Syria since 2012, and the film conformed to this culture. Not even corpses of women were shown on camera. Director Fayyad mentioned the short (albeit 40 minute!) film The White Helmets which won the 2017 Oscar for best short documentary. He said that his film, as well as the Oscar-winning documentary, both relied on the same cinematographers to provide the film material. One fears for these photographers in every scene of the movie. Fayyad does an excellent job of putting their film material together to become a "real" story with beginning and end, with small personal details. It's more than just a news report.
The first reaction upon seeing the film is, "What can I do to help?" and it is possible to go online and find various organizations which support The White Helmets organization. My second reaction was, "How lucky I am to live in the peaceful community of Hamburg." We will no longer take things like this for granted after watching the film (Becky Tan)