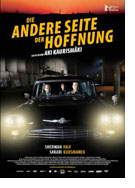 Die andere Seite der Hoffnung (The Other Side of Hope, Toivon tuolla puolen)
Finland/Germany 2017
Opening 30 Mar 2017
Directed by: Aki Kaurismäki
Writing credits: Aki Kaurismäki
Principal actors: Ville Virtanen, Kati Outinen, Tommi Korpela, Sakari Kuosmanen, Sherwan Haji
The latest outing by Finnish master filmmaker Aki Kaurismäki is a melancholy yet hopeful meditation on the plight of refugees in Helsinki – and by extension, the world. Kaurismäki's effortless mix of deadpan black comedy, faux hipness and humanism have made him a perpetual favorite in international critics' circles, and all these ingredients are on vivid display in the entertaining The Other Side of Hope.
Wikström is a stolid fellow trapped, like so many of us, in workaday monotony. He ditches his alcoholic wife, sells his meager interest in his dress-shirt business, and takes the cash to a high-stakes poker game. It turns out poker is something Wikström is good at. Now seeking a new calling, he invests in a shabby, hopeless-looking restaurant. Meanwhile, a Syrian refugee named Khaled is turning himself in to the authorities, after ending up in Finland on a ship by mistake. Impassive Finnish helpers set him up in a busy refugee shelter, and he begins dutifully wandering through the bureaucracy required to gain asylum. Separated from his beloved sister en route, Khaled enlists the help of a generous fellow refugee to help find her. Mazdak, an Iraqi who has already been in the shelter way too long, knows how to get things done around here. As they run up against a cast of peculiar and inscrutable Finns, the refugees' bewilderment is completely understandable.
To Khaled's disbelief, Finland rejects his case and announces he'll be sent back to Aleppo. He goes on the lam and ends up sleeping amidst garbage cans near Wikström's new hole in the wall. Startled to find a stranger there, the refugee and the native each give in to their natural impulses, and smack each other. But then a kind of understanding is reached: Khaled will sleep in Wikström's storage space, and Wikström will employ him in his restaurant. Soon the restaurateur and his trio of oddball employees are colluding to help Khaled avoid deportation.
Shot in garishly-lit, eye-popping color by frequent collaborator Timo Salminen, and production-designed by Kaurismäki himself, the film's funky score features tunes by Tuomari Nurmio which add to its vibe.
These Finns and Syrians and Iraqis all exist on the fringes of society. No friends of the authorities, their loserdom lends them familiarity and humanity – indeed, they're just like us. At his press conference at the Berlinale (where he won the Silver Bear for best director), Aki Kaurismäki noted wryly, "We are all human, and tomorrow it will be you who is a refugee." (Brenda Benthien)


Second Opinion

It was no surprise that Finnish Director Aki Kaurismaki won the Golden Bear for best director and the Silver Bear for best film for The Other Side of Hope. First, he chose a highly political theme this year that is currently polarizing Europe, especially in countries holding current political elections. Refugees: take them or not, and when you do take them what do you do with them? How do you treat them? He said when he saw a rather large number of Iraqi refugees came into his country Finland which has a relatively small population; he saw how people were afraid of them and closed up. They were not willing to help them and, instead, illustrated hatred and racism. This inspired him to make this film trilogy. I believe that he works in this humorous satire style in order to reach out to a bigger audience. Perhaps people will see themselves in this film and not be so afraid or see the absurdity of how doing the wrong action doesn't help anyone get further along in the society.
The film follows two very different characters that cross paths and what happens at this intersection. Our hero Wilström (Sakari Kuomanen) leaves his alcoholic wife, quits selling business shorts and wins a fortune at poker and decides to follow his dream. He buys a rundown restaurant called the Golden Pint which includes three lost and dysfunctional employees. He has big plans to turn it around and is willing to work hard to do it. On the other side is Khaled (Sherwan Haji) a Syrian asylum seeker who arrives in Helsinki full of soot from hiding on a coal freighter. Upon arrival he immediately goes to the police station so he can immigrate and join in on the economic opportunities there while at the same time he tries to find and save his lost sister. Between the cigarettes, a band playing in the background and the impassionate police, Khaled finds his way into this new oddball warm hearted restaurants family where his life begins to change or does it really?
The film is off-beat minimalistic satire describing the plight of the refugees as they embark on a journey into the immigration maze of Finnish bureaucracy. Kaurismaki's characters often seem simple and straight-faced but underneath have a lot of compassion and kindness and the motivations is not always what they seem. The dialog often has a slap-stick feel about it and there is not much music except for a live band that is perfectly integrated into the narrative as well. This is the second film in his trilogy; the first one being Le Havre; he chose to work with the refugee theme because he was appalled at his fellow countrymen's terrible behavior towards the influx of refugees coming to Finland who needed understanding and help, not violence and discrimination. I can hardly wait to see what comes next. (Shelly Schoeneshoefer)