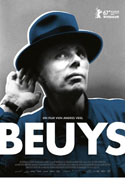 Opening 18 May 2017
Directed by: Andres Veiel
Writing credits: Andres Veiel

Many of us have seen installations by the German performance artist Joseph Beuys in museums of modern art and puzzled about their meaning. We encounter them as static bolts of felt, coils of plastic tubing or piles of stones on display in cold, white rooms with no sign of the dynamic situation in which they were produced. As this excellent documentary film by Andres Veiel shows, however, Beuys regarded actions rather than artifacts as art. In this sense, his own life, that of every human being and society as a whole can be considered a work of art. Therefore you have to deal with the person Beuys and his biography if you want to understand his art. Veiel tells us Beuys story with snippets of archival film material ingeniously put together by the cutters Stephan Krumbiegel and Olaf Voigtländer and supplemented with commentaries by people like Caroline Tisdall or Klaus Staeck who knew Beuys personally.
Beuys biography is one of war-torn Germany and post-war exuberance charged with personal tragedy and the desire for social and political change. We see Beuys' wonderfully sensitive face as a child in Nazi Germany, as a fighter pilot who survived a crash, as a victim of depression, an artist, teacher, and political visionary. We sense his vulnerability, laugh when he laughs, and follow his rise to fame in art and politics in a country keen on renewal. We are caught up by the excitement of the early meetings of the Green Party with Beuys as one of its first candidates, a movement whose goal was grassroots democracy. Provocation was seen as an important means for achieving this goal, an art which Beuys mastered with humor and bravado. As a result, as some commentators have written, we begin to realize how much we need a figure like Beuys today in a society driven by xenophobia and isolationism. A thought-provoking film well worth seeing. (Pat Nevers)


Second Opinion

Ever heard of Joseph Beuys? Maybe you have seen pictures of him? He was the German artist who was often seen wearing a British felt fedora, a fisherman's vest and sometimes a luxurious fur-lined coat that went out of style in the 1980s. Although the man has been dead for now thirty years he has not been forgotten. In fact he is considered one of the most influential artists of the twenty century. We see the remanences of his performance art pieces and instillations which are now housed under glass cubes for inspection at almost every modern museum in the world. Unfortunately for Beuys, many of his pieces have lost their meaning in this format since they were never meant to be seen this way. They are objects out of context and were meant to be seen as part of an active process. That is why this film is so important since it basically resurrects Beuys from the dead and we can hear it straight from the horse's mouth.
Director Andres Veiel opens this documentary on Beuys by diving right into the past. Using old black-and-white archival footage we immediately have the feeling and intensity of Beuys' art performances. The images are strangely strong and we can feel the energy and see how the masses of people are drawn to him. We learn that he was a neglected child with immense freedom and became a Nazi pilot saved from the Tartans. All this and much more influence his art work which was to come. He was a part of the Fluxus artist movement of the 1960s which included people like Nam June Paik, George Brecht and Yoko Ono. He created time-based works which included urban planning and visual art. He shared the idea of anti- commercial and anti-art sensibility. He was not only an installation artist but also developed art theories which included new ideas such as social philosophy and humanism. These ideas widened his creative scope that ended in works of social sculpture that mixed together art, politics and the role of society. He was humorous, controversial and often isolated but he never stopped putting energy into his art. But this is just a slice of what he did with all his energy. This is a film not to be missed since it includes not only archival footage but interviews from individuals who knew him well and saw his development throughout his career. (Shelly Schoeneshoefer)