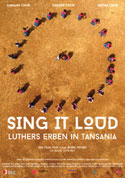 Sing It Loud – Luthers Erben In Tansania (Sing It Loud – Luther's Heirs in Tanzania)
Germany/Tanzania 2017
Opening 18 May 2017
Directed by: Julie Irene Peters, Jutta Feit
Writing credits: Julie Irene Peters, Jutta Feit

In 1954, Pastor Silas Mosangi organized the first church choir competition in northern Tanzania with three hundred groups participating. Currently, more than 1,500 choirs from Lutheran Churches compete in the annual Choir Challenge. Directors Julia Irene Peters and Jutta Feit focus on three different choirs: Neema (rural), Cantante (urban) and Kanaani Youth (tech savvy teens). Intermingled are interviews, way of life scenes, performances, the festival site and jury, and historical facts. Choir members talk about their love of music and what drives them, the European compositions, choir directors, and personal challenges, aspirations. Jury members explain the competition's rules and how choirs are judged.
Especially intriguing are Tanzanians insights, appreciating music is culture- and colorblind, and references to German East Africa in late 19th century, whereby Lutheran missionaries spread Christianity and customs. Nowadays, choirs integrate native aspects. Striking are scenes with rural dancers wearing distinctive Maasai beadwork, and performers at the competition wearing colorful kanga and shúkàs.
Vita Spieß's camerawork is encompassing and variable. Jutta Feit's script format could have been more cohesive, and the directors' more focused. The editors, Anna Demisch and Svenja Fritsche should have cut/structured the footage more succinctly, especially the long section showing the protagonist groups going to the festival grounds. How can audiences hear music without choirs singing? Still, listening to their music is guaranteed to put joy in one's heart. "We like our culture (Maasai) and we like God." (Marinell Haegelin)


Second Opinion

It is not a surprise that a film has been made celebrating 500 years of the reformation of Martin Luther. What is a surprise is that in Northern Tanzania, there is a yearly music competition celebrating the music that Martin Luther composed. The missionaries first came to Tanzania in 1904 and translated the music and the scriptures into the Massai language.
The music competition festival started in 1954 and had 300 participants. Now there are over 1000 people competing. The film shows many of the people who are competing and why they want to do it. It shows the different walks of life there in the north and what draws them to this music as well as the community they live in. It is a colorful trip through the landscape and the lives of the people there as well as a chance to see how they interpret European music African style. (Shelly Schoeneshoefer)