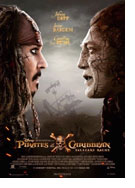 Pirates of the Caribbean: Salazars Rache (Pirates of the Caribbean: Dead Men Tell No Tales)
U.S.A. 2017
Opening 25 May 2017
Directed by: Joachim Rønning, Espen Sandberg
Writing credits: Jeff Nathanson, Terry Rossio, Ted Elliott, Stuart Beattie, Jay Wolpert
Principal actors: Johnny Depp, Geoffrey Rush, Javier Bardem, Brenton Thwaites, Kaya Scodelario
Captain Jack Sparrow (Johnny Depp) once again finds himself the target of an evil ghost crew bent on his and every pirate's destruction. When the malevolent Captain Armando Salazar (Javier Bardem) leads his ghostly sailors to escape the Devil's Triangle, they are determined to seek vengeance on all at sea, particularly Captain Jack.
The only way the hapless Jack Sparrow can survive is to find the Trident of Poseidon before Captain Salazar. In order to find the Trident he must enlist the help of Henry Turner (Brenton Thwaites) and Carina Smyth (Kaya Scodelario), but first he must convince them to align themselves with a down-on-his-luck pirate. If Captain Jack can possess the Trident, he can gain total control of the seas and, once again, save himself from doom and a watery death.
The new protagonists Henry and Carina do hark back to the old films where Will Turner and Elizabeth Swann were our favorite couple, but they bring a newer, more modern dimension to a couple finding themselves and each other.
Old favorites return to help thicken the plot and remind us of the previous delights of the Caribbean. Will Turner (Orlando Bloom) and Elizabeth Swann (Keira Knightley) return after a long break from the Pirates of the Caribbean adventures; we also once again enjoy the supporting actors Joshamee Gibbs (Kevin McNally), Captain Jack's best friend, and Captain Hector Barbossa (Geoffrey Rush), Captain Jack's once rival now ally.
If you are a fan of Captain Jack Sparrow you will not be disappointed; Johnny Depp, once again, showcases his comic genius in this role. Fourteen years later the fifth Pirates of the Caribbean is as good as the first. Enjoy the fantasy and a cameo from Sir Paul McCartney. (Shelly Schoeneshoefer)