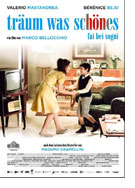 Traum was schönes (Sweet Dreams, Fai bei Sogni)
Italy/France 2016
Opening 17 Aug 2017
Directed by: Marco Bellocchio
Writing credits: Massimo Gramellini, Valia Santella, Edoardo Albinati, Marco Bellocchio
Principal actors: Bérénice Bejo, Valerio Mastandrea, Fabrizio Gifuni, Guido Caprino, Barbara Ronchi
Massimo (Nicoló Cobras) is nine-years-old when his beautiful mother (Barbara Ronchi) suddenly dies. He consoles himself with the myth that his mother is not gone, but just living in faraway New York. He grows up under the care of his father (Guido Caprino), a godmother (Ariana Scommegna), and a nanny in Turin, Italy. Although a loner in his adult life, Massimo (Mastandrea) becomes a successful journalist. In the end he learns the truth.
The story is simple, perhaps not very original, rather long (134-minutes) but one to take in step by step as it slowly unrolls with many flashbacks. The love between young Massimo and his beautiful mother is so close; he has a panic attack when he cannot find her hiding place while playing hide and seek. They dance the twist together and watch a scary movie about the devil Belphegar. The first 20 minutes of this happiness are hard to watch, as we know, contrary to Massimo, that they will be separated. The break is sudden and the funeral is unreal for Massimo.
I saw the film in Italian with subtitles, which I would highly recommend, even without any knowledge of Italian. The Catholic burial ceremony, as well as other events, seems so very genuine when one hears the words in Italian. Later he visits his rich school friend Enrico and observes the relationship between him and his mother. As a journalist he lands breaking news when a well-known man shoots himself; he covers dangerous events in Sarajevo, also much shooting, as well as shot-like sounds throughout the film, such as fireworks during New Year's Eve or soccer matches. Is this a clue? Deep down Massimo is still mourning the loss of his mother, which is perhaps an explanation for his difficulty to interact in social situations. He often mentally calls upon the demonic Belphegar for confirmation that this is the life he must bear. After the death of his father, he begins to sort things, in order to sell the apartment; this touches memories which he can no longer ignore. His godmother is surprised that he never learned the truth.
This is your chance to experience many excellent Italian actors, which might be less familiar, beginning with young Nicoló Cobras who excels as the young Massimo. The story takes on even deeper meaning, when we know that it is based on an autobiographical book, a bestseller in 2012 by Massimo Gramellini. (Becky Tan)