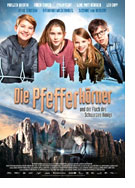 Die Pfefferkörner und der Fluch des schwarzen Königs
Germany 2017
Opening 7 Sep 2017
Directed by: Christian Theede
Writing credits: Dirk Ahner
Principal actors: Marleen Quentin, Ruben Storck, Emilia Flint, Luke Vogelbein, Leo Seppi
Since 1999 more than 100 episodes of the popular children's TV series "Die Pfefferkörner" were produced. For the first time German director Christian Theedes brings the detective stories to the big screen. Dirk Ahner wrote the script and Ngo The Chau's camera captured the impressive landscape of the Tyrolean mountains as well as beautiful impressions of Hamburg.
Mia (Marleen Quentin) and her school friend Benny (Ruben Storck) live in Hamburg and are looking forward to their summer vacation with a school trip to the mountains. A long-distance bus brings them to the farm of Mia's friend Luca (Leo Gapp). It's a big surprise for Benny, when his mother, Andrea (Katharina Wackernagel), turns up to announce that she will be filling in for a sick colleague. The class teacher Martin Schulze (Devid Striesow) is thrilled and quite smitten with this cheerful lady.
Arriving at the farm comes the next surprise. What is wrong with Luca? Why is he so scared? When black water is gushing out of the farm spring, he admits that he is "cursed" by the Black King, a ghost living in a mountain cave. More mysterious things happen and the children decide to investigate. Their new class mate Johannes (Luke Matt Röntgen) offers to join them. Checking the cave is the first task. It ends with them running screaming out of the cave and down the hill. They got frightened after confronting a large shadow with a hollering voice.
Deciding that they need more information, Mia contacts her nine-year old sister Alice (Emilia Flint) in Hamburg. Perhaps she can find out more about the mystery of the Black King. Thrilled to be included in the investigation, she immediately gets working on the computer. Alice discovers that the Mayor (Sebastian Bauer) is keen to buy the farm for a big Hamburg company intending to bottle and sell the mountain water. Isabel Levartis (Suzanne von Borsody) is coming to Tyrol to meet him. Mia and Benny manage to sneak up on them and record the business talk but are discovered and have to flee. With no proof of the dealings nobody will believe the company's foul play. Their new friend Johannes comes to the rescue with his father's airplane and sophisticated technical knowledge. The action picks up. After breaking into an office, fooling security men, walking on a glass roof, the "Pfefferkörner" have overcome the spell of the Black King.
The young detectives (between 9 to 12 years) are very convincing with the excellent support of "adult actors", each one perfectly cast for their respective roles, i.e. a wonderfully "nasty" Suzanne von Borsody or an absent-minded and flirting couple Wackernagel/Striesow. Daring actions and funny situations accompanied by a James-Bond-like soundtrack make it an entertainment for the whole family. (Birgit Schrumpf)