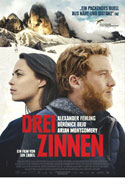 Opening 21 Dec 2017
Directed by: Jan Zabeil
Writing credits: Jan Zabeil
Principal actors: Alexander Fehling, Bérénice Beio, Arian Montgomery
Aaron (Fehling) wants to show his girlfriend Lea (Bejo) and her son Tristan (Montgomery) his favored mountain, the Three Peaks in the north of Italy. They sleep in a simple log cabin, cut wood or go for walks in this stark but magnificent mountain landscape (impressive cinematography by Axel Schneppat). When Lea still has to do some work, Aaron takes the eight-year-old boy exploring the area. Tristan asks, "Are these three separate peaks or is it one mountain?" He calls it "mother, father, child" which already gives a hint of his inner turmoil. The frequent phone calls from his father George, with whom he speaks English, are constantly challenging the holiday harmony. Lea speaks French and Aaron German. This is not an obvious problem but it highlights the separateness of the three protagonists – as symbolized with the Three Peaks.
Aaron does everything to please Tristan hoping to further their good relationship during this trip, to become a real family. Tristan admires this capable and caring friend of her mother's. Once he shyly calls him "Papa". Lea doesn't like it, arguing angrily that he already has one father and does not need two. It will always remain like that even if she left George two years ago for Aaron. Is there an undercurrent that she does not want to share the love of her son despite her deep feelings for Aaron? Very slowly the psychological details are working toward a tension that develops into an extreme, leading to an unsuspected situation between life and death.
This is only the second feature film of the young German director Jan Zabeil. He combines the intimate atmosphere in the cabin with the overpowering expanse of the Dolomite Mountains where you can get lost in heavy fog. "Getting lost in the fog of feelings", are Jan Zabeils words, who also wrote the script. He has a keen sense of the conflicting feelings within the patchwork family and how the emotional ambivalence can swing from intense love and care to dislike and even anger – and then change back again.
The dialog in this unhurried film is kept to a minimum whilst all three actors deliver a brilliant performance: Alexander Fehling, the good-natured, competent friend, Bérénice Bejo, the anxious mother and lover and little eight-year-old Arian Montgomery, a natural acting talent, is Tristan. A strong film, psychologically sound and highly dramatic. (Birgit Schrumpf)