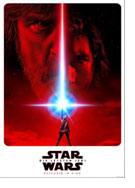 Star Wars: Die letzten Jedi (Star Wars: The Last Jedi)
U.S.A. 2017
Opening 14 Dec 2017
Directed by: Rian Johnson
Writing credits: Rian Johnson, George Lucas
Principal actors: Daisy Ridley, John Boyega, Mark Hamill, Carrie Fisher, Adam Driver
A long, long time ago in a galaxy far, far away… so begins Episode VIII of the epic space opera we earthlings have been following for decades. Opening on a battle scene, Princess-cum-General Leia (Carrie Fisher) matches wits and force with the First Order, then penalizes X-wing fighter Commander Poe Dameron (Oscar Isaac) for a daring deed. Concurrently, the highly uncommon scavenger Rey (Daisy Ridley) – now with the Resistance – finds Luke Skywalker's (Mark Hamill) un-findable planet refuge on Ahch-To and tries to coerce him on two points. Whereas Kelo Ren-cum-Ben Solo (Adam Driver) sets about proving himself, Finn (John Boyega) with Rose's (Kelly Marie Tran) help tackle a problem head-on inadvertently meeting the illusive underworld thief DJ (Benicio Del Toro), wherefore a single-mindedly driven Force accelerate their agenda and events converge whereby the Resistance are tested as never before.
When The Walt Disney Company bought Lucasfilm in 2012, George Lucas' production company that included the Star Wars franchise, a new trilogy was announced. Star Wars: The Last Jedi is second in the sequel trilogy, and picks up where the J. J. Abrams' directed Star Wars: The Force Awakens, 2015 leaves off (so you might want to reacquaint yourself with that storyline, as well as Rogue One: A Star Wars Story, 2016). Writer-director Rian Johnson grew up with Lucas' movies and played with the toys they spawned. Therefore, Johnson was invested in preserving its integrity, e.g. beloved characters Lucas created. For continuity's sake, Johnson and Abrams' collaborated.
The top-notch cast is wonderful, with many reprising their roles, including Peter Mayhew and Joonas Suotamo as Chewbacca. Parallel action takes us in at least four directions concurrently where old friends appear and new characters and phenomenon are introduced, e.g. crystal critters. Editor Bob Ducsay does an amazing job keeping the storylines under control that John Williams' overwhelming music compliments. Cinematographer Steve Yedlin and teams filmed on location in Croatia, Ireland, Iceland and in studio controlled environments. Kudos to the various departments:' production design, costume, hair and makeup, special and visual effects, and stunt performers.
At the end of the end title crawl, the cast and crews' families receive special thanks for their patience, since the production encountered setbacks, e.g. weather conditions and delays. Episode VIII is dedicated to Carrie Fisher who died in December 2016. Now that the direction is established with recently developed characters introduced, be prepared for Episode lX to unabashedly explode into the expanded universe. (Marinell Haegelin)


Third Opinion

As a big Star Wars fan, I must say that I was very apprehensive about this film. My expectations were very high, as was my fear of disappointment. A few days after seeing the film, I'm still not completely sure what I think about it, but fortunately there are plenty of good reasons to go see the film this Christmas.
The story line largely follows the other movies in terms of an epic battle between the forces of good and evil. The beginning was a little slow for me, but the pace definitely picked up and I was thoroughly into the movie by the end of it. The film starts by setting up the premise for the action scenes that happen later on, and the action packed middle and end made up for the slow start. The acting was generally good, although at times I felt the direction was a bit lacking. It was wonderful and sad to see Carrie Fisher in her final performance, and the new cast members such as Adam Driver made great new additions. The camera shots were stunning at times, and the costumes and set were just the right touch. Nothing was too flashy or overdone.
For an overall somber film, there were some hysterical laugh-out-loud moments, and some fun referencing to the past films in the series.
Although the movie was overall enjoyable, it was missing some magic spark which I can't quite put my finger on. Definitely go and see this on a big screen, and be prepared to have fun, but don't expect to be blown away. (Nava Berg)


Second Opinion

Sometimes a film simply tries too hard. Just as The Force Awakens (2015) harkened back (perhaps a little too strongly) to A New Hope (1977), hopes were riding high for all those involved that The Last Jedi would be like The Empire Strikes Back (1980), which is largely regarded to be the best of the original trilogy. However, despite having everything going for it: a great cast, a decent first film, and a rich universe with endless opportunities for expansion, Star Wars: The Last Jedi fails to make the impact it wanted to. In its 152 minute runtime, very little actually happens to propel the story forward, and in a way it felt as though it was merely a placeholder for some big conclusions to come in the next sequel.
The greatest failing throughout is undoubtedly the script which seems confused as if there were too many edits or that a lot ended up on the cutting room floor. Topics such as overcoming the past and the duality (or lack thereof) of good vs. evil are given thought and development before being quickly disregarded in favor of clichés and overdone tropes. Some scenes seem to have been filmed merely for the potential ride at Disneyland and others are so saccharine and unsubtle that they seem more fit for the prequels than the new trilogy. Add to that Johnson's direction which switches from inspired to frankly sloppy, and The Last Jedi often goes from extreme highs of excitement to lows of complete disappointment.
To be fair, not everything is terrible. The action scenes are often truly memorable and some are undoubtedly going to be iconic. Also, it was great to finally see Oscar Isaac shine as Poe Dameron, a character which was certainly underserved in The Force Awakens. However, the failings of the plot and the wasted potential of much of the cast overshadows these triumphs. While there is no doubt that The Last Jedi will be an overwhelming success, it seems certain that time will only further reveal the depths of its failings. (Rose Finlay)