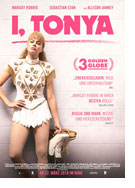 Opening 22 Mar 2018
Directed by: Craig Gillespie
Writing credits: Steven Rogers
Principal actors: Margot Robbie, Sebastian Stan, Allison Janney, Julianne Nicholson, Caitlin Carver
Just as reality television was gaining popularity, unscripted events dominated news that captured a generation of figure skating fans. Based on interviews, news stories, notes and whatever else they could find, this film is based on what could be considered as true as possible facts when talking about the real life characters of Tonya Harding and those who revolved around her.
At just 4, Harding was already an impressive figure skater. Reluctantly taken on by Coach Diane Rowlinson (Julianne Nicholson), Harding won her first competition at age 6. Her mother, LaVona Golden (Allison Janney), who worked hard to pay for Harding's lessons, was never impressed and frequently berated and beat Harding to get her to try harder. But entering a sport that favored girls who looked like beautiful princesses or well-heeled debutantes, Harding was too brazen with her streetwise manners and homespun costumes to appeal to the arrogant official competition judges. So despite her incredible athletic abilities, she often came up short of winning. That is, until Harding (as an adult played by Margot Robbie) won the 1991 U.S. Championships by being the first woman to execute the triple axel in competition.
Harding had married Jeff Gillooly (Sebastian Stan) in 1990. He supported her skating career to obsession. Their relationship was often violent. Gillooly, along with friend Shawn Eckhardt (Paul Walter Hauser), was implicated in an attack on Harding's main rival, Nancy Kerrigan (Caitlin Carver), when Kerrigan was training for the 1994 U.S. Figure Skating Championships. Harding denied any knowledge of the plan. But did she know? Janney is terrific as the demanding mother from hell, Stan is wonderfully wonderful and horribly abusive, Hauser hits creepy right on but although Robbie is believable on close-up emotions, she somehow comes across as too polished and experienced to capture the wild child essence of Tonya Harding. (Mary Nyiri)


Second Opinion

A three-and-a-half-year-old girl skates across the ice to become one of the most hated figure skater in history. Why? Did she deserve that? Wasn't she one of the first women in world history to land a triple axel? American director Craig Gillespie takes Steven Roger's script and creates a mock pseudo-documentary on the life of the Olympic figure skater Tonya Harding (Margot Robbie) and her misfortune of being associated with the knife attacks on the elegant Nancy Kerrigan back in 1994.
This cleverly written black comedy unveils the true life of the true Tanya Harding by disrobing the media and the fake publicity attempts that projected a false image of her as a jealous ice skater from the wrong side of the tracks. We see the physical and emotional abuse that she suffered from both her mother and her husband, which started the day her father walked out of her life. Through interviews we meet the all-sacrificing mother LaVona played brilliantly by Allison Janney as well as Tonya's loyal husband Jeff Gillooly (Sebatian Stan) and many of the colourful characters playing a significate role in the downfall in her ice-skating career. It's one of the best films I have seen in a long time. It reminded me of how many people misjudged her at the time. She never gave up fighting for her dreams until they put all their forces together and took it all away with one judgement ruling. It takes a close look at our society and how easily it is to kill off the dreams of little girls with a camera and a story. But don't think about that, ask the questions later. (Shelly Schoeneshoefer)