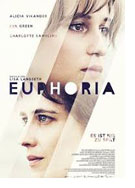 Opening 24 May 2018
Directed by: Lisa Langseth
Writing credits: Lisa Langseth
Principal actors: Alicia Vikander, Eva Green, Charlotte Rampling, Charles Dance, Mark Stanley
Ines (Alicia Vikander) and Emilie (Eva Green) are sisters, who lost touch with each other years ago. They meet at the airport (in Munich) to take off for a vacation. Ines was quite surprised when Emilie sent this invitation to reunite and she is suspicious of the intentions. It becomes more mysterious when they arrive at a sanatorium isolated in a huge forest. Everywhere guests are quietly lounging in the sun, surrounded by helpers in long gray coats. The manager Aron (Adrian Lester) lays out the rules. A guest has six days to decide whether to drink a poison, which induces sleep and then death. In other words, people voluntarily come for assisted suicide because they have only a short time to live and they wish to die peacefully. In six days one can accept the fact or return to a former life with unknown circumstances. Every time someone dies, the church bells ring.
Emilie is suffering from cancer. She wishes to spend her last six days with Ines and discuss their childhood leading up to years of separation; she even made a list. Their father left the family long ago. The mother could not cope. Ines took off for a life on her own and Emilie stayed with their mother, who committed suicide five years ago. Such different lifestyles and senses of responsibility and now they should dismiss differences and become loving sisters? Emilie's assistant, Marina (Charlotte Rampling), provides her with necessities and an open ear. Ines decides to leave immediately, something only possible by helicopter. There is no interaction with other patients, except for Mr. Daren (Charles Dance) and Brian (Mark Stanley).
What a sad topic: euthanasia. I expected to see flashbacks. For example, when Emilie says that Ines left them, I expected to go back years before and see Ines packing and their mother begging her to stay, etc. There are no flashbacks; all is left to our imagination. The film goes slowly and becomes repetitive; the whole story could be told in five minutes. Ringing church bells are annoying. Actress Charlotte Rampling has had such a successful career for more than 40 years and here she looks old, as if she were also leaving this world. The forest is "symbolic of life" i.e., lost. "In the end we are all miserable." Here nothing is euphoric (as the title indicates), except the music of a rock band, hired to help Mr. Daren through his last day. On the positive side, the sanatorium is filmed at beautiful Schloss (castle) Dennenlohe in Bavaria.
This is director Lisa Langseth's first film to be made entirely in English. Naturally, the international cast from France, Sweden, and England was excellent. We can look forward to their next films, hopefully far from the theme of self-induced death and suffering. (Becky Tan)