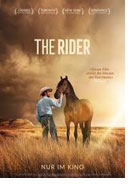 Opening 21 Jun 2018
Directed by: Chloé Zhao
Writing credits: Chloé Zhao
Principal actors: Brady Jandreau, Tim Jandreau, Lilly Jandreau
Brady Blackburn (Brady Jandreau) suffers a severe head injury while performing in a rodeo. A horse with such a serious injury would be shot; a human being is forced to continue. With the support of his father Wayne (Tim Jandreau) Brady slowly recovers. Financial straits force him to take on a job at a supermarket and his father sells his favorite horse, Gus. However, "God gives each person a purpose; and the cowboy's is to ride." Brady returns to the meadow, where he begins to train a wild horse named Apollo, an art which is fascinating to watch.
Three members of the Jandreau family agreed to star in The Rider. Naturally, they were especially suited for this film, because in real life they breed horses in South Dakota where Chinese director Chloè Zhaofilmed. Brady Jandreau is not only very good-looking in a cowboy hat, but also an excellent actor, who should come back for more. His sister, Lilly Jandreau and friend Lane Scott also play themselves. Much of the story is biographical, e.g., somewhat based on a real rodeo accident suffered by Brady Jandreau during his young career as a rodeo rider. The South Dakota scenery and the horses are beautiful and it is no surprise that The Riderwon the Art Cinema Award at the 2017 Cannes Film Festival. (Becky Tan)


Second Opinion

Writer-director Chloé Zhao has an uncanny understanding of the American West and its inhabitants, and nature's indiscriminate temperament. In her second feature film, personal tragedy is putty in her hands as the untrained cast portray themselves before Joshua James Richards' camera under her fluid assured guidance. The Rider is dedicated to those individuals that "live their lives 8-seconds at a time."
Brady's (Brady Jandreau) rodeo dream is shattered, together with a key bodily component, in an accident. Reeling, and recuperating with his skull bandaged, Wayne (Tim Jandreau) exasperatedly says to his son, "You're as stubborn as your brother" when common sense talk falls on deaf ears. Friends maintain status quo, while Lily (Lilly Jandreau) straddles puberty, and being independent of, yet concern for her brother. Only the shared camaraderie with Lane (Lane Scott) at the hospital eases, yet pinpoints Brady's dilemma. Until, Apollo offers a bigger and healthier challenge.
Zhao inherently recognizes a good story, plus has the shrewdness to stick close to actualities. Her trademark—to date—is tight budgets, shooting on location, light dialogue delivered mostly by real-life protagonists with a supporting cast of friends, family and townsfolk: "We're capturing truth - because truth is the only thing we can afford." She met Brady Jandreau learning to ride a horse while filming her award winning debut feature in South Dakota, USA. Brady's life appealed to her sense of storytelling; Brady's accident inadvertently became this film's plot.
Spectacular vistas and revealing close-ups are fluidly caught by Richards's cinematography, just as Alex O'Flinn's editing is predominantly shrewd and measuredly adding Nathan Halpern's mood-tempered-by-action music is noteworthy. A native of Beijing, China, Ms. Zhao is surprisingly attuned to the pulse of Americana. The Rider won the Art Cinema Award when it screened at Filmfest Hamburg, Germany in 2017; award winning Songs My Brothers Taught Me screened there in 2015. Both films premiered at the Cannes Film Festival. Already in pre-production is a historical Western about the U.S.'s first black Deputy Marshall; it will be intriguing to see how Zhao develops this angle, and its result. (Marinell Haegelin)