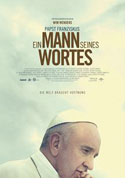 Opening 14 Jun 2018
Directed by: Wim Wenders
Writing credits: Wim Wenders, David Rosier

Renowned director Wim Wenders documents a period of several years in the current pope's office, showing him on tours through the Americas, Africa, Europe and Asia. The Vatican opened its archives for Wenders, and much of the film is original footage from these tours.
Many scenes contain close-ups of Pope Francis meeting individuals from crowds in the places he visited. We see multitudes of impoverished or shell-shocked victims of natural catastrophes and chronic poverty, and I felt truly dismayed at the abysmal need of these thousands of people. Wenders intersperses these encounters with personal interviews with the pope and clips from sermons and other encounters, and his own remarks on the pope's vision.
The pope's creed is non-judgmental tolerance – how important it is to listen to one another, not to judge, and to respect another's viewpoint. What is the most important human quality? A smile that comes from the heart, and a sense of humor. Of all the peoples of the world, who is the most wretched in his direct experience? The world itself, its beauty and resources massively exploited.
Wenders lets the pope answer his questions speaking directly through a camera lens into the eyes of the audience, which makes his message doubly effective. One of the funnier scenes shows the pope in Washington waving from a tiny car in a motorized escort of President Trump's enormous security vehicles. A comic demonstration of Francis' conviction that pomp is useless, that there are more important things to attend to.
Wenders' voice merges with that of the pope – he often underlines clearly his sympathy with the unadulterated style and empathetic message of his subject. His position as commentator becomes one of supporter. What emerges is a sympathetic view of a man who sincerely rejects a life of comfortable luxury and who would like the world to remember and include those left behind. (Ann Gebauer-Thompson)