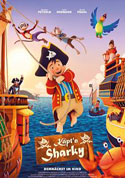 Käpt'n Sharky (Capt'n Sharky)
Germany 2018
Opening 30 Aug 2018
Directed by: Jan Stoltz, Hubert Weiland
Writing credits: Mark Slater, Gabriele Walther
Principal actors: Norman Endres, Jule Hermann, Anton Petzold, Axel Prahl
This is the first film of the well-known children's book series Käpt'n Sharky. His adventures have been told by Jutta Langreuter and illustrated by Silvio Neuendorfer. They have already published eleven books.
Käpt'n Sharky is still a kid, he cannot read or write yet but thinks he is the unbeatable "Terror of the Seas". With his crew, the rat PiRatte and Coco the parrot, he can master all adventures. One day the shy Mikey seeks his help when running away from an angry crowd. But he is not the only one. Bonnie, the daughter of the captain and commander of a big sailing boat, has run away and is now hiding in Käpt'n Sharky's little boat. Sharky is not amused. But when he hears that Bonnie is the owner of a compass, she is allowed to stay on board.
Her father has offered a fair amount of money to anyone who brings his daughter back. No doubt, this wakes up a mop of greedy pirates. Luckily, the children are able to hide in a cave inhabited by an army of crabs. They are a friendly and helpful lot. The boat gets repaired, they all learn the crab-dance and happily sing along. But soon Sharky and his friends have to face the open seas again. Not only the pirates but also the Admiral and his crew are approaching.
All is well in the end. The children are saved from the pirates and Bonnie promises to go back to school. It is a film that is pleasantly different from the often overwhelmingly brutal children's stories on circuit. Therefore, it is very suitable for the little ones of kindergarten age. Not only boys will like the daring Sharky but little girls will be impressed with the brave Bonnie. Adults can sit back, relax and enjoy the reaction of their kids. (Birgit Schrumpf)