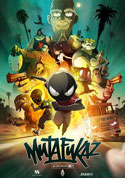 Opening 25 Oct 2018
Directed by: Shôjirô Nishimi, Guillaume Renard
Writing credits: Guillaume Renard
Principal actors: Tay Lee, Mark Ryan Haltom, Ray Chung, Alp Altiner, Darnell Gene Johnson Jr.
Angelino (aka Lino) is a small boy or an alien or a fantasy figure (you chose), who lives in Dark Meat City, which could be NYC. His friend Vinz is strange in that fire burns out of his head all times; together they feed the friendly cockroaches. Lino's house features a sign that says "God Bless this Mess." Life is kind of a mess, too, considering that another friend, Willy, also strange, pays unwelcome visits. However, that's nothing compared to the monsters, which attack, fight, and threaten them.
This film is based on the comics of the same name by the French author Guillaume Renard, who goes by the pseudonym RUN. It was created into a film by Japanese director Shoujirou Nishimi. The signs in Dark Meat City are in English, so there is probably an English version, although I saw it in French with German subtitles. The story is all about action: wrestlers fighting, three men in black suits stalking, street wars, 10 dead and 50 injured, riots, guns. The worthwhile reason to see and enjoy the film is the fantastic animation, drawings, and art work – very well done. The Japanese have a history of successful animated films, however this one is similar to Mary and the Witch's Flower, which appeared recently. Both films show nothing typically Japanese at all; they could be playing in any culture. So what do you think the title Mutafukaz means (hint: not very original). (Becky Tan)