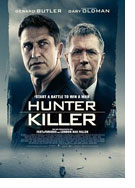 Opening 25 Oct 2018
Directed by: Donovan Marsh
Writing credits: Arne Schmidt, Jamie Moss
Principal actors: Gerard Butler, Gary Oldman, Common, Michael Nyqvist, Linda Cardellini
When dominoes are lined up in a row, once the first one is knocked over it starts a chain reaction. Hunter Killer replicates that premise. Directed by Donovan Marsh with a screenplay co-written by Arne Schmidt and Jamie Moss, its basis is the 2012 novel, Firing Point by George Wallace (retired U.S. Navy Commander) and Don Keith.
The DOD (Department of Defense) finds itself in a tight fix when a "cat and mouse" exercise goes astray on Russia's doorstep in the Barents Sea. Unbeknownst, Russian President Zakarin (Alexander Diachenko) is visiting the Russian Arctic operations post. Chairman of the Joint Chiefs Charles Donnegan (Gary Oldman) calms down when Rear Admiral John Fisk (Common) announces he has a backup submarine, commanded by a Captain (Gerard Butler) in the area. A team of elite U.S. Navy SEALs, led by a fearless Lieutenant (Toby Stephens), is sent to backup the sub. Eventually, NSA (National Security Agency) senior analyst Jayne Norquist (Linda Cardellini) and RA Fisk's teamwork leapfrog protocols, given the circumstances. At said Russian base, rogue Admiral Durov (Michael Gor), and like-minded zealots led by Tretiak (Igor Jijikine) are in duplicitous cahoots. Tensions mount as action moves back/forth from above to below the surface, jumping from one continent to another. The only alternative to immobilizing a worldwide calamity requires the captured Russian's (Michael Nyqvist) input.
The strong cast delivers a compelling post-Cold War yet pre-World War III movie. Scenes between Michael Nyqvist/Captain Andropov and Gerard Butler/Captain Joe Glass are intense, mesmerizing – the believability is commanding. Nyqvist's subtle facial movements and voice inflections rivets attention in this, one of his last films. Production values are solid: Tom Marais' cinematography, Trevor Morris' music, and Michael J. Duthie's calculated editing. Hunter Killer's title becomes clear watching this entertaining, absorbing espionage film. (Marinell Haegelin)


Second Opinion

"Hunter Killer" is the phrasing for a particular kind of submarine made for the chasing and destroying of warships, particular of enemy submarines. Deep under the beautifully filmed landscape of ice and snow in the Arctic Ocean unfolds a gruesome political thriller involving the two superpowers USA and Russia.
A Russian submarine is being sabotaged, sunk to the bottom of the ocean. The Russian President has been kidnapped by his own Foreign Minister. War preparations are under way. Do the Russians want to force World War III? Washington is watching in alarm. Perplexity can be seen on the worried faces of the high-ranking officers and they decide on a daring action. A highly specialized team of navy SEALs is flown onto Russian soil installing equipment sending live information to the Pentagon. Captain Joe Glass (Gerard Butler), an experienced Hunter-Killer-captain has orders to take his submarine USS Arkansas into enemy waters to clarify the situation.
We see spectacular action inside the submarine, with all the claustrophobic elements, the technically sophisticated instruments, the bravery but also the fear of the young marines when the going gets rough, i.e. a water leak has to be repaired. Meanwhile, on the Russian naval base the SEALs are involved into heavy fighting trying to rescue the kidnapped president. The tension grows.
Director Donovan Marsh gave his film also a very human touch. When a bold Captain Glass is taking a risk with his Russian "prisoner", captain Andropow (one of the last roles of the late Michael Nyqvist), the two men's facial expression is so convincing that few words are necessary. Meanwhile, in the Pentagon RA Fisk (Common) together with Jayne Norquist (Linda Cardellini) stop CJCS Charles Donnegan (Gary Oldman) from rushing into any armed action.
The two writers, Arne L. Schmidt and Jamie Moss, based their script on the book "Firing Point" by the ex-submarine commander George Wallace. There have been a number of submarine movies in the past, but this is modern 21st century version with all its frightening references to our today's situation. There is a chilling plausibility to it. (Birgit Schrumpf)