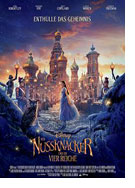 Der Nussknacker und die vier Reiche (The Nutcracker and the Four Realms)
U.S.A. 2018
Opening 1 Nov 2018
Directed by: Lasse Hallström, Joe Johnston
Writing credits: Ashleigh Powell, E.T.A. Hoffmann, Marius Petipa
Principal actors: Mackenzie Foy, Keira Knightley, Morgan Freeman, Helen Mirren, Tom Sweet
Clara (MacKenzie Foy) and her family are celebrating Christmas Eve at her Godfather, Drosselmeyer's (Morgan Freeman) home. Such a magic time of the year brings both gifts and adventure for Clara. Her search for the key to open her special gift leads her to a mysterious world full of splendor but also darkness. The race to save these wondrous realms will pit her against tin soldiers and thousands of mice but with the help of The Nutcracker (Jayden Fowora-Knight) she must succeed. Clara is also joined in her journey by The Sugar Plum Fairy (Keira Knightley) and Mother Ginger (Helen Mirren).
The score written by James Newton Howard was inspired by the themes of Tchaikovsky's classical ballet and performed by the famous conductor Gustavo Dudamel with the Philharmonia Orchestra in London. A particular highlight is Lang Lang performing "The Nutcracker Suite." And for even further delight we have the magnificent Misty Copeland performing as The Ballerina.
It is a magical time of year and this Disney film will bring magic and wonder to children and adults alike. This film is sure to become a new Christmas favorite. (Christine Riney)


Second Opinion

Despite a normally capable cast, lush settings, and beautiful costumes by Academy Award winner Jenny Beavan, The Nutcracker and the Four Realms fails to live up to its potential. Loosely based on the Tchaikovsky ballet, the story retains some of classic elements while trying to create an adventure plot. Unfortunately, the result is a bland, uninspired mess.
Following the death of her mother, Clara (Mackenzie Foy) and her family attend a Christmas ball put on by her godfather Drosselmeyer (Morgan Freeman). As a Christmas gift, Clara's mother gave her a metal egg, but without the key needed to open it. She must go on a quest beyond the limits of her imagination to find the key and open the present.
There is so much wrong with this film it is hard to know where to begin. The short runtime of 99 minutes barely gives enough time for the character development and scene setting needed to create a fantasy epic of the size and scale that was clearly imagined by the filmmakers. There is a significant lack of payoff to events throughout. Clara leads forces into battle and never mentions them again or reacts to their death or disappearance. The discovery of the realm by her mother is described via interpretive ballet and she never questions how the conflict in the realm came about before embarking on a mission to invade enemy territory. There is just so much missing from the final cut of this film that everything feels as light and fluffy as the cotton candy of the Sugarplum Fairy's hair, and just as sickly sweet and unsatisfying.
The writing and general plot are so overdone it almost feels like it was plagiarized from a Screenwriting for Dummies book. Plagiarized and apparently misunderstood, because even a formulaic script from a screenwriting book would likely have more depth than found here. The character development is flimsy and their motivations barely make any sense. Clara is the chosen one simply because. There is no reason given. Her siblings apparently don't get to enjoy the favoritism of their deceased mother and so are not invited on grand adventures. The eponymous Nutcracker (Jayden Fowora-Knight) has no personality or agency, and Clara takes a rather gleeful pleasure out of ordering him around. Without real stakes (who cares about an imaginary world of people who barely have personalities), character development, or story development… there isn't really much here at all.
The Nutcracker and Four Realms is a perfect example of how a trailer can promise something much more interesting than the actual film. The actors and general talent of the crew is wasted on a half-baked script and gimmicky 3D effects. There is really little to praise here aside from interesting costumes and set design, but that is not enough to recommend even the most forgiving audiences to see this film. (Rose Finlay)