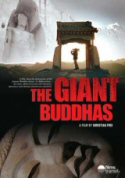 Opening 3 Aug 2006
Directed by: Christian Frei
Writing credits:

In the year 507 A.D. two statues of Buddha were built in Bamiyan-Tal, a northern province of Afghanistan. Fifteen hundred years later the head of the Taliban, Mullah Omar, ordered all non-Islamic symbols to be destroyed. Christian Frei uses this tragedy to portray the loss of a country's culture and the effects on its people as foreign powers use their land as its killing fields. One can easily substitute Cambodia or Iraq for similar results.
The film approaches the subject through several participants. A Swiss group attempts to recreate the statues through photographic simulation and a UNESCO team plans for a major "face lift", much to the amazement of local Afghanis. A French archeologist, fascinated by the descriptions of a third sleeping Buddha as written in a diary by the ancient traveller Xuanzang, searches for the world's eighth wonder, aided by the efforts of local unemployed Afghanis. An Afghani-Canadian, author/actress Nelofer Pazira, is inspired by a picture of her father posing before the giant statues. She travels back to Afghanistan and visits a local history museum, severely damaged by decades of war. In Leshan, China, a theme park is being developed with a copy of one of the giant Buddha statues – the ultimate irony.
Mr. Freitag quotes the Iranian filmaker Mohsen Mahkmalbaf: "I am still convinced that the Buddha statues didn't have to be destroyed. They are symbols of shame. Shame of the ignorance of the western world about Afghanistan". Six months after the destruction of the statues in Afghanistan, the Twin Towers in New York were destroyed. The film avoids directly commenting on the war in Afghanistan and focuses only on the after-effects. The world suddenly became interested in Afghanistan only when an archeological treasure was threatened. How its people were affected by decades of war between two global powers rarely hit the radar screen. (Patricia Ritz)