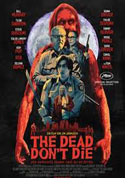 Opening 13 Jun 2019
Directed by: Jim Jarmusch
Writing credits: Jim Jarmusch
Principal actors: Adam Driver, Bill Murray, Chloë Sevigny, Tilda Swinton, Danny Glover
Centerville, USA, the fictional setting of Jim Jarmusch's latest movie, has a sign welcoming visitors to "A Real Nice Place". Except things here are definitely "going to end badly," as Ronnie Peterson keeps reminding us throughout this comedic send-up of a zombie film. Ronnie, played by Adam Driver (also the star of Jarmusch's last feature film, Paterson), is one of a trio of small-town cops – Bill Murray (another Jarmusch regular) and Chloë Sevigny play his partners – who find themselves fighting off re-animated dead guys and gals when Centerville is overrun by zombies. Visiting "hipsters from Cleveland" are thrown into the mix, alongside eccentric locals and a newly arrived undertaker, Zelda Winston, whose knack for samurai swordplay comes in handy. (She's played by Tilda Swinton, in a similarly silly name-game as Rosie Perez playing a newscaster called Posie Juarez).
But there's more than mere silliness in The Dead Don't Die. Murray and Driver's deadpan repartee offers laugh-out-loud moments, and many of the film's jokes pay tribute to the rich vein of zombie and horror movies Jarmusch drew influence from. There are also plenty of meta moments that reference Jarmusch's own films, particularly when his "regulars" reprise elements of previous performances or poke fun at themselves. Singer Iggy Pop appears here as a zombie, which is pretty much what Iggy Pop looks like on any given day. Amusingly, this zombie is as drawn to coffee as he is to human entrails – a silly reminder of the power of that black beverage, which he and Tom Waits drank together in Jarmusch's Coffee and Cigarettes. Waits is also in The Dead Don't Die, playing the accurately named Hermit Bob. He's the mouthpiece of Jarmusch's more somber messages, or warnings, about the irreversible harm we're doing to our planet, and the empty promises of capitalism.
Overall the film feels melancholic and verges on hopeless – this is going to end badly – even with all that joking. But what makes it work is that it's not completely hopeless. As the WU-PS delivery guy says, "the world is perfect, appreciate the details." Details like the fact that maybe some of the kids in this movie will be alright (hope for the next generation?), or more meta Jarmusch details: the delivery guy is played by RZA, another Jarmusch alum, and the leader of the band the Wu-Tang Clan. (Get it? WU-PS?). Regardless of which details you focus on, this movie offers plenty to feast on, whether you're a big Jarmusch fan, or enjoy the escape of a zombie romp, or just want to revel in what cinema does best – entertain us. (Diana Schnelle)


Second Opinion

Thanks to human interference, Mother Earth is thrown off-kilter. Straightaway Hermit Bob (Waits, whose hair looks conspicuously like the Lion's in Wizard of Oz) spots curious upheavals in his natural habitat. Likewise, returning to the station quintessential police chief Cliff Robertson (a sardonically imperturbable Murray), and deputy Ronnie Peterson's (Driver, as a droll, nerdy know-all) running commentary is about the radio static, and daylight at 20:20, "something weird's going on." Farmer Fred's (a cantankerous Buscemi) dog runs off 'bout the time he notices other critters missing. Matter of fact, around Centerville – "A Really Nice Place" – alot is erupting; now whether these oddities are perceived for what they are depends upon the shifting sands of attentiveness.
Writer-director Jim Jarmusch's newest ghoul fest (Only Lovers Left Alive, 2013) comes to life with casually laconic, limerick-like script, and a to-die-for ensemble. Massaging their line's contextual juices while delivering infinitely witty performances are also Danny Glover, Eszter Balint, Rosie Perez, Caleb Landry Jones, Selena Gomez, Austin Butler, RZA, et al. Tilda Swinton is delicious as the unconventional, longsword-wielding mortician Zelda Winston; worth noting, Zelda and the critters uncanny perception has the same result. Even the many non-speaking roles are delivered with panache, e.g., Iggy Pop, Sara Driver, Carol Kane, and Sturgill Simpson, country music singer-songwriter. Jarmusch keeps histrionics in check, and the visual jokes are sometimes funnier than the leitmotifs.
Slip-sliding and gliding between Sturgill Simpson's theme song is signature Jarmusch dialogues: Tongue-in-cheek, mocking humor to perceptive yet unflattering socio-political passages to Tom Waites' running commentary-cum-soliloquies, there are nuggets to be digested in retrospect. Plaudits to Ellen Lewis' casting, Affonso Gonçalves' editing, and Alex DiGerlando's production design. Frederick Elmes camerawork caresses the cast, and Victorian charm and Catskill natural beauty surrounding the village of Fleischmanns, New York… even in the dark. Besides being uncommonly funny, and its foot-tapping music, The Dead Don't Die gives audiences a leg up if ever in a similar situation — go for the head! (Marinell Haegelin)


Third Opinion

I don't know if it was because I was watching that rare full "blue " moon which is a phenomenon that radiates a lunar charge 12 times stronger than the normal full moon, but as I watched this film, I felt the strange astronomical energy hovering over the audience. Could it be that the independent film director Jim Jarmusch has created yet another cult horror-comedy classic which is to die for just like that of The American Werewolf in London (1981). It can't be a coincidence that Tilda Swinton, Bill Murray and Iggy Pop felt completely at home in this campy-horror picture show. Even the sound track of The Dead Don't Die played a major role in this film giving us the hint that this film won't end on a good note.
Strange happenings occur in Centerville which sets Sheriff Cliff Robertson (Bill Murray) and his side-kick Ronald Peterson (Adam Driver) on a wild-goose chase tracking down missing dogs, missing people, and at the end, finding they too are trapped in an infested town of walking zombies. One can tell that Jarmusch handpicked a group of actors who had a blast making this film since he included off-beat musicians such as Tom Waits, Selena Gomez, Iggy Pop and RZA on the roaster. My favorite moments are when the characters let you know that they know this is all just a script and not a film at all. I also loved watching Zombie Iggy Pop do the zombie dance with a pot of coffee as he makes his way down the street. I have to admit that I laughed out-loud in spite of myself as I watched that "blue " moon rise high in the sky. It seems pretty clear that the Earth is in trouble, but all my hopes were still on that Scottish caretaker Zelda Wintston (Tilda Swinton) although she seems pretty odd as she waves her Samurai sword around, but she might have what it takes to helps us through the night. This will definitely become a cult classic! (Shelly Schoeneshoefer)