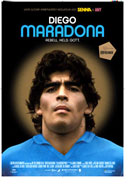 Opening 5 Sep 2019
Directed by: Asif Kapadia
Writing credits:

Diego Maradona is probably the world most famous professional soccer player. He was born in 1960, the fifth child and first son, and lived in Fiorito, a shantytown near Buenos Aires, Argentina. He started seriously playing soccer at age 8; at age 11 he was on the team of a junior branch of the Argentine soccer club and at age 15 he left his family (which had moved to live with him in Buenos Aires) and played for a more professional branch of the Argentina team's junior league. He left Argentina to play two seasons with the Barcelona national team and then changed to the Naples team where he "had to get used to Italian soccer." At the time Naples was not known for many successes. This changed with the arrival of Maradona in 1984, where we see a good-looking young man at the top of his career. By 1987 Naples is number one in Italy and Maradona suffers from lack of privacy. Naturally, he also plays for the Argentina team in World Cup competitions against England, Belgium, Germany, and even against Italy, where he has a divided loyalty.
Parallel to his career is his girlfriend Claudia Villafañe, whom he met when he was 16 and she was 15. They eventually have two daughters. Villafañe stays true to the relationship until 2004 and even then they remain close. He also had a long-term relationship with Cristiana Sinagra, with whom he has a son, although he refuses to accept paternity. He was also quite close to the Giuliano family who were members of the Comorra, an Italian mafia which provided him with prostitutes, cocaine, and alcohol. This dependency led to health problems and obesity, as well as being arrested and court appearances.
Director Asif Kapadia studied more than 500 hours of film from which he selected 130 minutes to present this summary of Maradona. It emphasizes his childhood, his success as a young man, and finally, his struggle with aging. This excellent documentary will appeal to anyone interested in a well-known personality, whether soccer plays a role or not. It ends in 2016, when Diego Maradona is back in Argentina and finally accepts his son, who is now 30 years old. (Becky Tan)