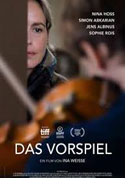 Opening 23 Jan 2020
Directed by: Ina Weisse
Writing credits: Daphne Charizani, Ina Weisse
Principal actors: Nina Hoss, Simon Abkarian, Jens Albinus, Ilja Monti, Serafin Mishiev
Anna Brodsky (Nina Hoss) is a violin teacher at a music school. Her own son Jonas (Serafin Mishiev) is taught by one of her colleagues. When 12-year-old Alexander (Ilja Monti) auditions for a place Anna sees his talent as a chance for him and for her too. Against the will of her colleagues she manages to get him into the school, taking over his tuition -- meaning taking over his "life".
Anna was once a performing violinist but had to give up her career for psychological reasons. She hoped her son Jonas would be fulfilling her own dream. But it is not his dream and he would much rather spend time with friends at the skating rink.
No wonder, this is frustrating for Anna and she transfers all her attention to her new pupil. Her attitude is harsh with little praise for his efforts. Shy Alexander is straining to please his teacher. The ambitious Anna drives him and all of her household to their limits. Her obsession consumes her, alienating even Christian (Jens Albinus), her colleague and clandestine lover.
Soft-spoken Philippe (Simon Abkarian), her husband, runs his own business repairing musical instruments. He is the one always making time for their son. Jonas feels neglected by Anna as she spends all her time with the other teenage boy, her protégé.
The sophisticated script, written by Ina Weisse together with Daphne Charizani, unfolds with unhasty tension. Hoss is formidable in her role as the stubborn, not very endearing personality of the music teacher. At the same time she lets us feel what a deeply troubled person Anna is. The two young supporting actors Ilja Monti and Serafin Mishiev give very engaging performances as the struggling pupil and rebellious son. Listening to pieces of classical music is a highlight in this psychological family drama. (Birgit Schrumpf)