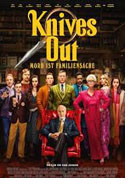 Knives Out – Mord Ist Familiensache (Knives Out)
U.S.A. 2019
Opening 2 Jan 2020
Directed by: Rian Johnson
Writing credits: Rian Johnson
Principal actors: Daniel Craig, Chris Evans, Ana De Armas, Jamie Lee Curtis, Michael Shannon
Writer-director Rian Johnson's (Star Wars: Episode VIII - The Last Jedi, 2017, Looper, 2012) clever, witty tongue-in-cheek whodunit delivers refreshingly fun entertainment. As the Thrombey clan's devious antics mount, one laugh-out-loud moment trips over the next. Why, for all anyone knows, perhaps the family patriarch wrote Knives Out before his untimely demise.
Lieutenant Elliott (LaKeith Stanfield), with Trooper Wagner's (Noah Segan) assistance, calls family members in, separately, for questioning subsequent to famed crime writer-cum-publisher Harlan Thrombey's (Christopher Plummer) death. Marta (Ana de Armas), the caregiver, found Harlan's body and now the family, having recently celebrated Dad's 85th birthday, must tolerate these interlopers. First is Linda (Jamie Lee Curtis), the eldest, followed by husband Richard (Don Johnson)—spoiled son Ransom (Chris Evans) is unavailable; next, Joni (Toni Collette), widow of Harlan's second son Neal and mother of Meg (Katherine Langford), then Walt (Michael Shannon), wife Donna (Riki Lindhome) and 16-year old weirdo Jacob (Jaeden Martell). Inconspicuously in the background listening, and watching like a hawk, is the renowned Kentucky sleuth, Benoit Blanc (Daniel Craig). Discovering whether suicide, or not, is why Blanc was hired. As each person talks, audiences see the narrative play out in real time, without any fabrications. Two exceptions are Greatnana Wanetta (K Callan), and Fran (Edi Patterson), the housekeeper. When Marta acts out the evidence, at Blanc's behest, he acknowledges, "[S]omething's afoot, eh Watson." On balance, Harlan simply wanted to fix some things before closing the book… and does he ever.
Easily wearing their characters' eccentricities, the stellar ensemble obviously has fun dancing circles around the thickly intricate screenplay. Like a bloodhound, Steve Yedlin's cinematography leaves no stone unturned while highlighting lil' nooks and crannies, and Bob Ducsay snips with aplomb. David Crank's crafty production design goes hand-in-hand with Nathan Johnson's evocative and spirited music, e.g., the opening sequence alone offers pointers to Harlan's psyche. Knives Out's original, guile plot is enticingly inserted with identifiable clues and red herrings and, its baiting suspense holds until the last knife drops. (Marinell Haegelin)


Second Opinion

Crime novelist Harlan Thrombey (Christopher Plummer) is dead. What initially looks like a suicide becomes more complicated when the famed detective Benoit Blanc (Daniel Craig) begins to investigate. Each member of the dysfunctional family is called in for questioning and the more they speak, the more dirty details are revealed suggesting that there are multiple motives to kill Harlan. Blanc is determined to get to the bottom of things, but even he might be surprised by the conclusion.
Yet again, writer/director Rian Johnson attempts to refresh a genre film by subverting expectations; yet again, the results are disappointing. Knives Out is certainly a slick feature, and under Johnson's direction the editing is on-point, the sets are beautiful, and the symbolism is thick. On the surface, Knives Out is a well-made, enjoyably old-fashioned whodunit with a superb cast. However, in trying to reinvent the wheel, Johnson stumbles on the most important aspects of such a story by undermining the tension and leading everything to a milquetoast and predictable conclusion. The characters are largely undefined or are merely tropes (the cheating husband, the jealous brother, the greedy grandson, the kind immigrant) are never fleshed out in any meaningful way, leaving no room for emotional catharsis at the end. We never really care much about these people, neither positively nor negatively, and so when they get their just desserts it feels rather bland. Clocking in at two hours and ten minutes, this omission of character development is felt even more strongly, particularly as audiences sit through "the dumbest car chase of all time" instead.
Hopefully, Knives Out will inspire other screenwriters to bring back the whodunit, because it really is fun and there is still life in it yet. However, as a whole this particular entry into the genre lacks the tight writing that is required to truly make it a classic. (Rose Finlay)